Peugeot kills Audi in 24 Hours of Le Mans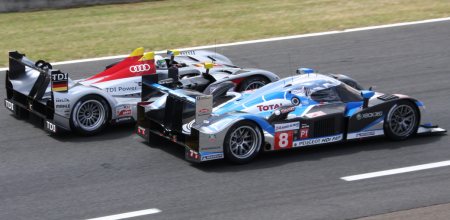 In only their third year of participation in the 24 Hours of Le Mans, the Peugeot 908 diesel prototypes managed to maintain a very high pace and obliterated Audi's decade-long dominance of the annual event held in France.
Two of Peugeot's three factory-backed cars came in first and second, ahead of an Audi R15 in third. The Marc Gene, David Brabham & Alexander Wurz crew won the 2009 24 Hours of Le Mans in the #9 Peugeot 908, one lap ahead of the #8 Peugeot 908 driven by Sébastien Bourdais, Franck Montagny & Stéphane Sarrazin.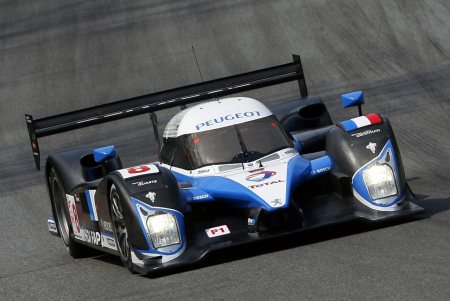 The race was very intense throughout, with the Safety Car coming out for 2 hours and 42 minutes altogether. Audi quickly lost two of their three factory-backed cars to an accident and mechanical problems. The German team never seemed anywhere close to beating the French Peugeot 908 Hdi FAP cars in the top LMP1 class.
The #1 car was one lap behind most of the time, with Allan McNish, Rinaldo Capello and Tom Kristensen having to put up with many mechanical problems which prevented last year's winners from taking the lead and beating the Peugeots. The #1 Audi R15 TDI finished third overall, six laps down, just ahead of the #007 Lola Aston Martin of the AMR Eastern Europe.
The fastest lap was set by Nicolas Minassian on lap 259 in a time of 3:24.352 at the Mulsanne racetrack in France.
While Peugeot stole the show in the LMP1 class, the LMP2 class was won by the #31 Porsche RS spyder of Casper Elgaard, Emmanuel Collard and Kristian Paulsen. The LM GT1 class was won by the #63 Corvette C6.R of Johnny O'Connell, Jan Magnussen and Antonio Garcia. And the LM GT2 class was won by the #82 Risi Competizione Ferrari F430 GT of Jaime Salo, Pierre Kaffer and Mika Salo.
There were 32 finishers out of the 55 competitors who took part in the gruelling race.