Webber wins Brazil GP but Button wins title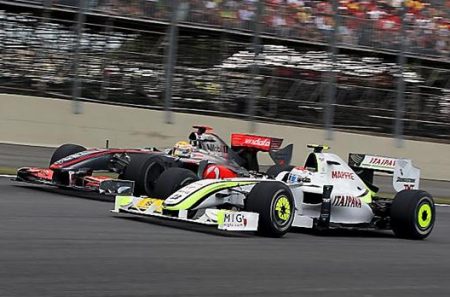 Jenson Button went into the Brazilian Grand Prix looking for a miracle. And he found it. After 60 of the 71 laps, as Mark Webber swept to a dominant victory for Red Bull ahead of BMW Sauber's Robert Kubica and a fighting Lewis Hamilton, he had done enough. And a late puncture for Brawn GP team mate Rubens Barrichello, which elevated him to fifth, was merely the icing on the cake.
It made him Britain's 10th world champion, and marked the first time England has celebrated back-to-back drivers' titles. At the same time, his success was more than sufficient to cement the constructors' title for Brawn, a unique and historic achievement in their first season.
Right from the start Button benefited from carnage to jump up from his 14th grid place to ninth at the end of a dramatic first lap.
It began when Kimi Raikkonen's Ferrari brushed wheels with Adrian Sutil's Force India going into the first corner. Then Sebastian Vettel's Red Bull tagged Heikki Kovalainen's McLaren on the exit, the Finn spinning and forcing Ferrari's Giancarlo Fisichella to run on to the grass in avoidance.
Further round the lap Jarno Trulli pulled his Toyota alongside Sutil but lost control as he was squeezed over the outer kerb. He tangled with the Force India, each spinning off in different directions. As Sutil speared back on to the track, he bounced right in front of Renault's Fernando Alonso, who had nowhere to go and retired with rear suspension damage. Not surprisingly the safety car was deployed as debris all over the place was cleared up.
As if all that wasn't dramatic enough, there was excitement in the pits as Kovalainen and Raikkonen both stopped at the end of the lap. The Ferrari driver had damaged his front wing against Webber, who had got away second behind Barrichello at the start. Kovalainen pulled away too soon from refuelling, taking his fuel hose with him. Raikkonen, right behind, then ran through a flash fire as fuel spewed from Kovalainen's trailing fuel hose.
When the racing resumed on the sixth lap Button launched an attack on Franco-Swiss rookie Renault driver Romain Grosjean. They ran side by side and repassed one another a couple of times in some tense wheel-to-wheel racing, but this was the Jenson Button who won six of the first seven races and he wasn't having any of that and soon settled the issue. Next on the list was Williams' Kazuki Nakajima, whom he deposed on the seventh lap. Rookie Kamui Kobayashi proved tougher, but after one failed attempt in Turn One Button made is stick.
From the 35th lap he had the championship in his sights, as the pit stops ebbed and flowed. The ones that really mattered came from the 50th lap onwards. Barrichello pitted then from second place. On Lap 55 Button pitted from third. On Lap 56 Vettel pitted from third. When the dust had finally settled on the 59th lap, Webber was leading Kubica by 5.2 seconds, with Barrichello third from Hamilton, Vettel and Button. Thus Button had 88 points; Barrichello 77, Vettel 73. The miracle had happened.
As Webber reeled off the final laps after a superb drive that was inevitably overshadowed by the title drama, and Kubica maintained his surprise second place despite nursing an overheating engine, Hamilton came pushing up behind Barrichello after McLaren cleverly changed his strategy after the first-lap carnage, and overtook him on the 61st lap. The Brazilian, so desperate to win on his home ground, was in trouble. A tyre had punctured, and he needed to make a third pit stop two laps later. It was the final icing on Button's cake, as he jumped up to fifth place behind Vettel.
Raikkonen brought his Ferrari home sixth after the team also changed his strategy early on when he needed that new front wing. Sebastien Buemi was in the hunt all afternoon for Toro Rosso and deserved his seventh place finish ahead of the deeply disappointed Barrichello, while Heikki Kovalainen could yet be penalised heavily from his ninth place as stewards investigate opening lap contact with Ferrari's Giancarlo Fisichella and his subsequent pit-lane drama.
Kobayashi finished 10th after a great debut for Toyota, while Fisichella had another unobtrusive race to 11th in the second F60 ahead of Vitantonio Liuzzi in the surviving Force India, Grosjean and Jaime Alguersuari. Neither Williams finished, Kazuki Nakajima crashing heavily after an incident with Kobayashi and Nico Rosberg suffering gearbox problems. Nick Heidfeld also joined the retirement list, for mechanical reasons.
Finally, with 89 points nobody could beat Button whatever happens in Abu Dhabi, and to rub salt into Barrichello's wounds he dropped to third on 72 behind Vettel's 74.
All through the slowing down lap, Button sang over the radio to his delighted team: "We are the champions my friends!"
And afterwards he could not stop himself. "It's great to be sat here as the world champion, and personally I feel that I deserve it. I was the best over 16 races and that's what world champions are. I am it. I am a world champion! And I'm gonna keep saying it all night!"
RESULTS
1 Mark Webber RBR-Renault
2 Robert Kubica BMW Sauber
3 Lewis Hamilton McLaren-Mercedes
4 Sebastian Vettel RBR-Renault
5 Jenson Button Brawn-Mercedes
6 Kimi Räikkönen Ferrari
7 Sebastien Buemi STR-Ferrari
8 Rubens Barrichello Brawn-Mercedes
9 Kamui Kobayashi Toyota
10 Giancarlo Fisichella Ferrari
11 Vitantonio Liuzzi Force India-Mercedes
12 Heikki Kovalainen McLaren-Mercedes
13 Romain Grosjean Renault
14 11 Jaime Alguersuari STR-Ferrari
Ret Kazuki Nakajima Williams-Toyota
Ret Nico Rosberg Williams-Toyota
Ret Nick Heidfeld BMW Sauber
Ret Adrian Sutil Force India-Mercedes
Ret Jarno Trulli Toyota
Ret Fernando Alonso Renault
POINTS TO DATE
1 Jenson Button Brawn-Mercedes 89
2 Sebastian Vettel RBR-Renault 74
3 Rubens Barrichello Brawn-Mercedes 72
4 Mark Webber RBR-Renault 61.5
5 Lewis Hamilton McLaren-Mercedes 49
6 Kimi Räikkönen Ferrari 48
7 Nico Rosberg Williams-Toyota 34.5
8 Jarno Trulli Toyota 30.5
9 Fernando Alonso Renault 26
10 Timo Glock Toyota 24
11 Felipe Massa Ferrari 22
12 Heikki Kovalainen McLaren-Mercedes 22
13 Robert Kubica BMW Sauber 17
14 Nick Heidfeld BMW Sauber 15
15 Giancarlo Fisichella Ferrari 8
16 Adrian Sutil Force India-Mercedes 5
17 Sebastien Buemi STR-Ferrari 5
18 Sebastien Bourdais STR-Ferrari 2
19 Kazuki Nakajima Williams-Toyota 0
20 Kamui Kobayashi Toyota 0
21 Nelsinho Piquet Renault 0
22 Vitantonio Liuzzi Force India-Mercedes 0
23 Romain Grosjean Renault 0
24 Jaime Alguersuari STR-Ferrari 0
25 Luca Badoer Ferrari
CONSTRUCTOR POINTS TO DATE
1 Brawn-Mercedes 161
2 RBR-Renault 135.5
3 McLaren-Mercedes 71
4 Ferrari 70
5 Toyota 54.5
6 Williams-Toyota 34.5
7 BMW Sauber 32
8 Renault 26
9 Force India-Mercedes 13
10 STR-Ferrari 7