So we got a new Honda Jazz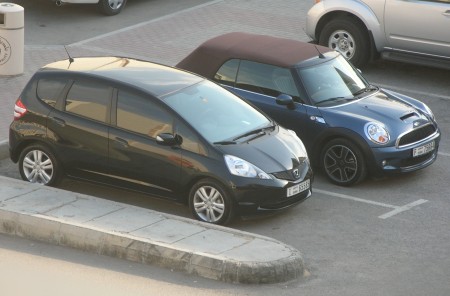 It just so happened that when we secured the new-for-2009 Honda Jazz for a test drive, we also got a call from BMW's rep offering us a Mini Cooper S Cabrio. We kept both, if only for a novelty comparo article later on. However, unfortunately or fortunately, we only got to keep the 118 hp Jazz for a less than a day-and-a-half, while we had the 172 hp Mini for three whole days. So we parked the Cabrio and trundled around Dubai exclusively in the Jazz for a day.
The Jazz is a sub-compact hatchback. A very tall sub-compact hatcback. With massive headlights. And insanely-long windshield wipers for what has to be the largest windshield in the world.
It's a shame then, that the 16-inch alloys look positively tiny on this car, not helped by the visible drum brakes out back.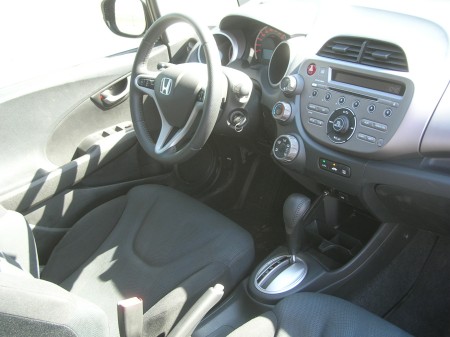 The dashboard styling is intentionally funky, tossing out symmetry for an artsy positioning of knobs and buttons. The controls are solid and within reach. Our tester even had paddle-shifters and a USB port.
The passenger side has two glove-boxes, even with an airbag taking up space, and the top one can be chilled by directing that air-vent to it instead of at yourself. Too bad all these innovations are encrusted in a hard plastic dashboard, but that is the standard of the segment, barring some competitor called the Fiesta.
The real eye-opener was the panoramic glass roof that extends over the rear passengers too. It does not open, but few drive with an open sunroof in the desert. It is interesting to note that this is the only Honda to offer this feature.
The front seats are basic but do fine, as the driving position feels like being in a tall crossover 4×4, right until a real 4×4 zooms up next to it. There is tons of unused headroom front and back, and we think there may be too much headroom even for tall people.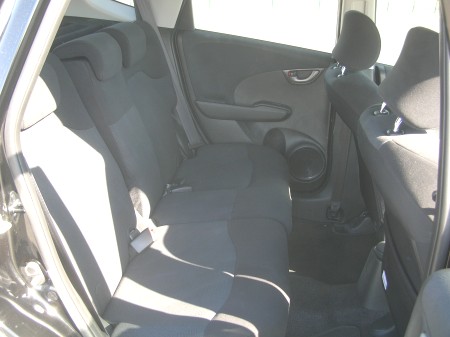 The rear legroom is impressive for its size. It rivals larger cars such as the inefficiently-packaged VW Golf, but not more than the Nissan Tiida.
The real interesting bit is that the rear bench is dubbed "magic seats" by Honda. Because in addition to split-folding down like in any other car, the seat-bottom can also fold up instead. For whatever purpose that may be, we still found the easy-to-use mechanism mind-boggling in its simplicity.
The luggage boot is rather small on its own, good for maybe one big upright suitcase, but with the rear seat folded down, there ends up being a huge amount of space for such a small car.
The wedge-shaped Honda Jazz prioritises space above all else. But while it may be lacking in sporting performance, it did have excellent handling and fuel economy, more of which will be discussed in the upcoming full review.