So we got a modified Jeep Wrangler Unlimited

Having never personally driven a Jeep Wrangler, I was actually looking forward to picking up this one from the local dealer for two days. Imagine my surprise when they handed me the keys to a modified Unlimited, fitted with a factory-original lift kit and other accessories.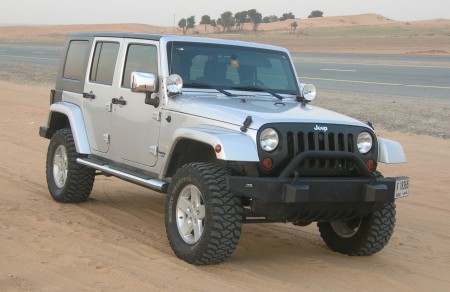 The Unlimited is a 5-door version of the traditional 3-door Wrangler. All Unlimiteds seemingly come with a hard top that can be removed in pieces, although we didn't bother due to the time and work involved.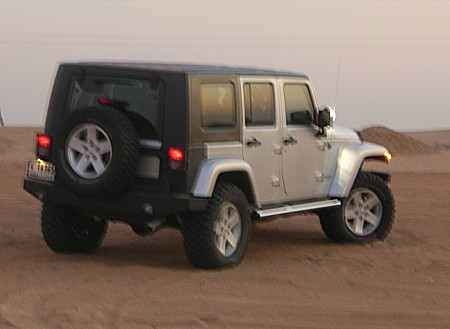 The mods, all available through Jeep, included a heavy metal front bumper instead of the stock plastic one, rear metal bumper, a 2-inch Mopar lift kit, black metal front grille, black plates around the rear corners, grilles around the rear lamps, driving lamps on the windshield pillars, chrome mirror housings, chrome tubular side-steps, off-road tyres and many other bits, brackets, hooks and wiring, all for an extra Dhs 35,000. While outfits like VW/Audi freak out when their test cars are used as they were meant to be used, we saw this thing as an open invitation to go off-road.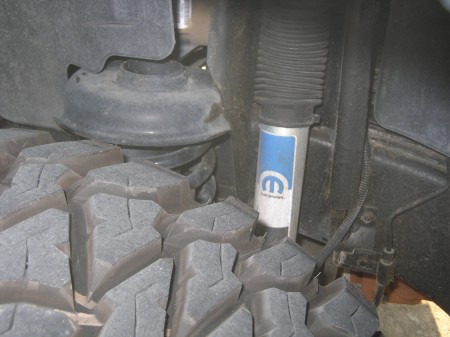 The Mopar suspension compoents are clearly visible through the massive wheel-well gaps. And those grooves are on "Mickey Thompson" specialised off-road tyres.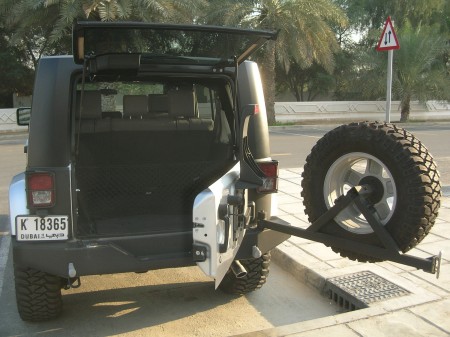 Loading anything into the spacious boot is a cumbersome 3-step affair and takes a bit of muscle to move that spare wheel.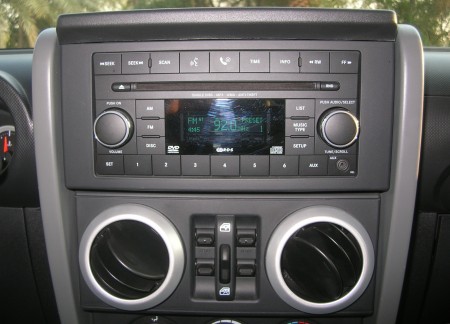 Inside, the dashboard is simply a piece of plastic with some gauges and controls on it, including this non-assuming stereo that houses the wildly-entertaining UConnect system. We entered this crude Jeep thinking it definitely didn't have Bluetooth, and instead ended up playing with a voice-controlled phone system that understood at least 90% of my Indo-Arab-American accent. Why Ford's SYNC gets all the hype, I'll never know.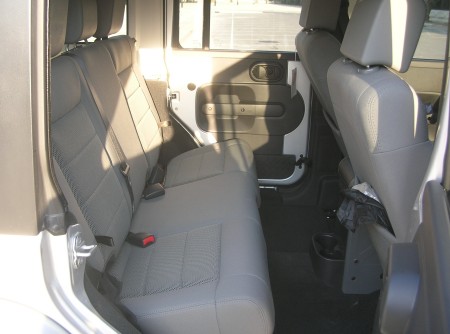 Rear legroom is adequate, but tall folks may have their knees touch the padded front seat-backs. Interestingly, we found a tag in the Jeep bragging about how the special cloth seats are resistant to everything from liquid stains to marker pens.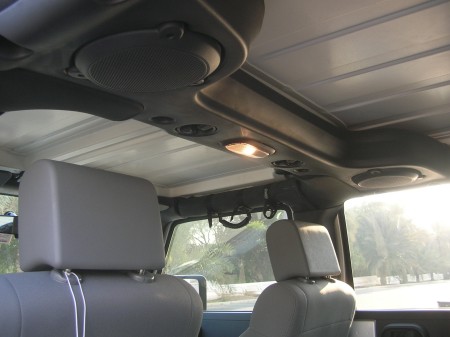 The Wrangler compromises on most creature comforts, but Jeep still saw it fit to stick two speakers on the middle roll bar. There were even removable covers for those speakers, should one go on a topless swimming excursion in mud.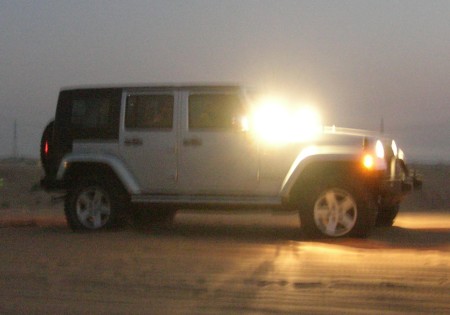 As we said, the mods were an invitation to go into the wilderness. And we did. Those driving lights were insane, and we actually did drive in pitch-black darkness in the desert.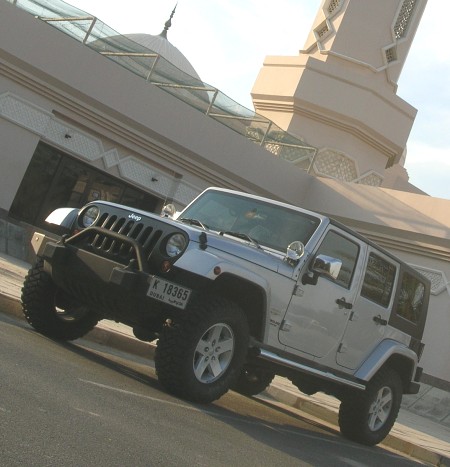 The full review will be up soon. After driving this thing, we are convinced that the Wrangler is purely an off-road tool. We see people drive these to work and back, and have to wonder what possessed them to use a Wrangler as a daily driver. We'll also have a full comparison with our own Jeep Grand Cherokee V8, and see how wide apart they are in execution.