So we got a 2010 Honda CR-V

The Honda CR-V, among the best-selling cars in the UAE, has received a facelift for the 2010 model year. Unfortunately, there is no upgraded engine for the GCC version, but from what we could see, that doesn't really matter in a popular crossover like this. It can sell solely based on its other features.
Changes up front include a new grille, though no one on the street seemed to even notice. The pointy front end almost makes it seem like the CR-V can go off-road. Almost.
The rear also supposedly received some changes, but we had to stare for half an hour to figure out what they were, compared to the neighbour's older CR-V. Even the tail lamps remain the same. At last we noticed that the lower black areas of the bumper are shaped differently. And there is a chrome exhaust tip. Why even bother?
The leather seats are very nice indeed, with armrests and power-adjustability for the driver. Notice the lack of a full centre console and the flat floor. It wastes a bit of storage space, but now you can slide from the driver's seat to the passenger's seat without getting out of the car! Wait, why would you want to do that?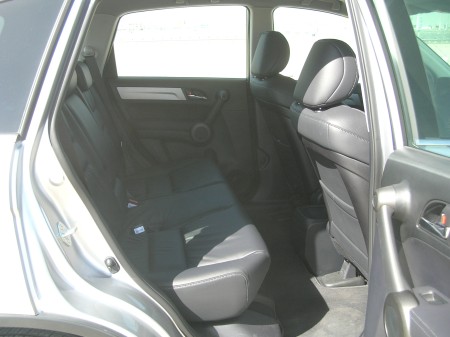 Rear seating is very spacious, with a flat floor as well as a reclining and fold-flat bench. It can even be moved front and back, and split-folds 40:20:40, while still retaining a centre armrest with cupholders. That entire rear bench is one fine piece of engineering that swayed my opinion about this car.
The cabin remains the same, with some new textures on the hard-plastic dash. It doesn't look as cheap as before, and the armrests aree nicely padded. Niceties only include the big LCD within the gauges, the dual-zone a/c with tiny buttons and the CD stereo that has a USB jack hidden in the upper glove-box. Yes, there is a lower glove-box too.
The name of the game is storage, with cubbies and pockets all over. The half-baked centre console in the front houses useful cup-holders and covered cubbies, although that flat floor in the front really wastes space, unless you want to place grocery bags near your feet.
The decent-sized cargo hold now has a double-deck shelf feature. The upper shelf has a limit of only 10 kg and is a bit heavy to move, so we left it halfway up in this picture.
The CR-V felt devoid of character, but overwhelmed us with its practicality. It is the family car for those who only buy Nokia phones, Hoover vacuum-cleaners and Sony TVs, because it is indeed a very good appliance. Once you get over that alien nose, there is absolutely nothing else wrong with it. More in the full review.