Ferrari's Alonso wins 2010 Bahrain F1 GP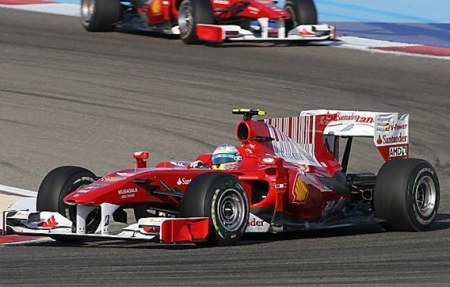 Fernando Alonso drove a superbly judged race to emulate Nigel Mansell and Kimi Raikkonen, as he sped to victory on his debut for Ferrari in Sunday's Bahrain Grand Prix. Alonso chased Sebastian Vettel's fleet Red Bull fruitlessly in the early stages, when both were running the super-soft Bridgestone tyres, but had an advantage after they had respectively switched to the harder compound on Laps 17 and 16.
Alonso then began to hunt down the German, whose lap times got slower and slower until the moment of truth arrived on Lap 34. That was when exhaust problems hit the Red Bull and the Ferrari dived past in the penultimate corner, to grab a lead it never lost. Felipe Massa had also closed in driving the second Ferrari and passed Vettel as they braked for Turn One at the start of Lap 35. Crucially, however, Alonso put in some fearsomely quick laps to break his team mate's challenge, after that there was nobody left to put him under pressure.
As Massa consolidated second place, conserving fuel as a temperature problem in the cockpit obliged him to ease back, it was nevertheless a great day for the Scuderia. Vettel came under increasing pressure from Lewis Hamilton's McLaren, which was a lot more competitive on the harder rubber. Eventually the 2008 world champion moved on to the final podium slot on the 38th lap after overtaking on the main straight.
Vettel almost fell prey to Nico Rosberg's Mercedes GP, but hung on for fourth ahead of the Silver Arrow. Almost four seconds further back, Michael Schumacher's return yielded a hard-fought sixth place, pressured all the way by 2009 champion Jenson Button in the other McLaren and Red Bull's Mark Webber. Over the last 30 laps they were never more than metres apart.
A great drive rewarded Vitantonio Liuzzi with ninth for Force €ndia, while Rubens Barrichello was in 10th place for Williams, taking the final point.
There was drama from the start when Webber's Red Bull spouted clouds of oil as the field braked for Turn One, and both Renault's Robert Kubica and Force €ndia's Adrian Sutil spun. They eventually finished 11th and 12th, with Jaime Alguersuari 13th for Toro Rosso. Nico Hulkenberg's debut was marked by a wild spin early on, and the need to claw back to 14th in the second Williams.
Lotus won the race for the new teams, with Heikki Kovalainen placing 15th after a commendably reliable run. Sebastien Buemi was 16th for Toro Rosso though he stopped three laps from the end, and Jarno Trulli's ailing Lotus was 17th, also three laps down.
There were more retirements than usual, with neither BMW Sauber making the flag, Bruno Senna's HRT eating its engine, the Virgins of Timo Glock and Lucas di Grassi falling prey to mechanical problems (after the German had waged a great fight with Kovalainen), Vitaly Petrov's strong early run in sight of points coming to nothing with a suspected suspension problem which was detected when he made his tyre stop on the 13th lap, and Karun Chandhok crashed his HRT on the second lap.
The result gives Ferrari the perfect start to the world championship with 43 points, ahead of McLaren on 21, Mercedes GP on 18 and Red Bull on 16. Alonso leads the title chase with 25 points from Massa on 18, Hamilton on 15, Vettel on 12, Rosberg on 10 and Schumacher on 8.
And the general verdict is that the ban of refuelling, while creating a slow-burn effect initially, made the racing much more exciting.