First drive: Chevrolet Tahoe 2010 in Fujairah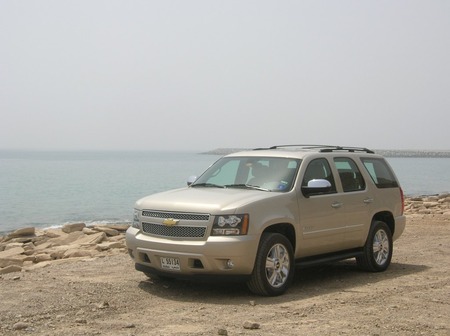 The General organised a little two-day trip for journalists to the Le Meridien Al Aqah, with some scuba diving, private rooms and Chevy Tahoes thrown in for good measure. I was a bit perplexed as to why they were promoting the unchanged-for-2010 Tahoe, but heck, who are we to argue.
I picked an LTZ from a fleet of new Tahoes at Chevrolet's Dubai showroom, considering we'd already driven the Z71 three years ago. The decision was made easier by the built-in navigation, wood trim and generally nicer interior styling of the LTZ, none of which the Z71 has. Also, the Z71 has off-road suspension, and our trip was to be on-road, so the comfort-biased LTZ made more sense.
The four-wheel-drive Tahoe LTZ is a big vehicle, with good ground clearance and fully setup for off-roading. The only forseeable issue would be a relatively low front-bumper lip, designed to aid in aerodynamics, but it can likely be removed for harder offroading. The 2WD, Auto 4×4, 4-High and 4-Low modes can be chosen at the twist of an electronic knob.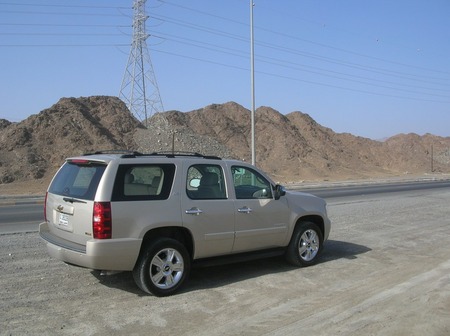 My golden tester was comfortable on most roads, but there was a slight vibration on certain surfaces, as is inherent in most truck-based SUVs with live-axle rear suspension. Wind noise becomes very noticeable by 120 kph, but that was expected in this handsome brick-shaped behemoth. But given its size, it did not feel too big to drive this time, probably because we practiced truck-driving with the larger Toyota Sequoia recently.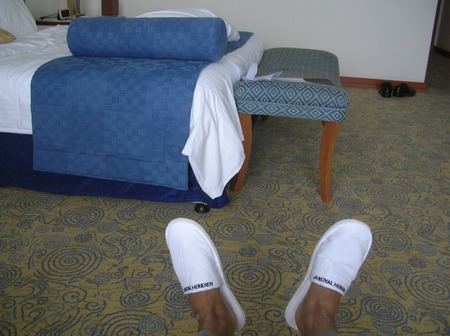 At the beach-side hotel, we were treated to five-star rooms at the resort, three square meals a day at a fancy restaurant, and an afternoon scuba-diving session with training in the morning.
Considering I can't even swim, I skipped the scuba lessons and took out a Tahoe LTZ instead, to have a spin around Khor Fakkan and pick up some cheap snacks. Paying Dhs 26 for a can of nuts in the hotel room wasn't my cup of tea.
I was handed the keys to another golden LTZ. It seemed more sprightly than the one I drove earlier, but I didn't know why. After a town run, I headed to the beach next to the hotel. And got stuck. I reached for the 4-Low knob, only it wasn't there. It turned out this LTZ was the two-wheel-drive version.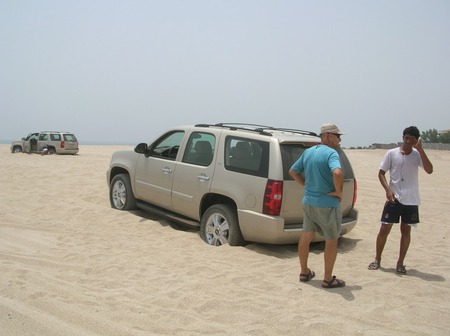 After a bit of digging, the spinning rear wheels seemed to sink even lower, so I quit. A friendly local kid stopped by and called the police for me, while I called Chevy's PR man to kindly give me a pull. While we waited, I and the kid talked about Emirati culture, education and family life in his small town outside Fujairah. Rather interesting, really. He said he's studying engineering, and I told him it sucks, because I studied engineering too. He agreed.
Chevy's PR man reached us first, with a Tahoe LTZ 4×4, but he eventually got stuck too while positioning the truck. None of us deflated the tyres beforehand, because we didn't expect the seaside beaches to be so unforgiving. Soon the cops came, deflated their own tyres and yanked the trucks out with metal cables. We thanked them and went back to the hotel.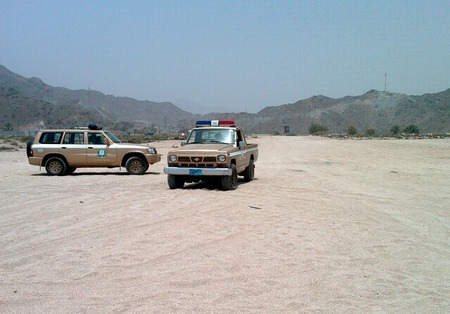 Later in the day, I got a little boat ride while most of the others went scuba-diving. I didn't really mind much because I was never into swimming with the fishes anyway.
The next morning we headed back to Dubai, and my vehicle was another Tahoe LTZ 4×4, this time a white one. We get to keep the truck we drive home in, for a couple of days, so I chose the LTZ yet again to do a proper road test.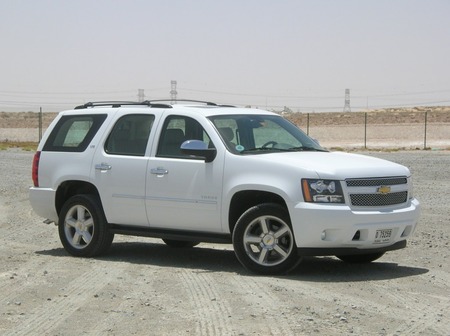 The trip was apparently done to highlight that Tahoe owners are active people who are into activities like scuba-diving. While I can't verify that, I did learn some new things, like there is a 2WD Tahoe on sale in the GCC, that it handles sand as well as an Aveo, that it is a decent highway cruiser, and that it is likely quicker than the 4×4 version by virtue of less weight. Also, the LTZ has better on-road handling than the Z71, but that will be in the full review soon.
Evening photos by Jorge Ferrari.