Highway test: Chevrolet Malibu 2010 from Dubai to RAK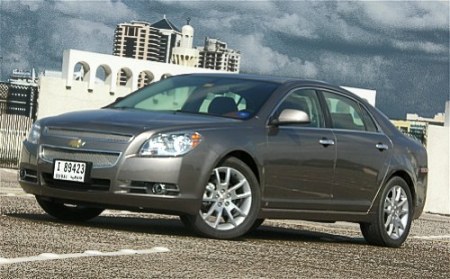 We took our first ever 2010 long-term car on a trip from Dubai to Ras-Al-Khaimah, partly as an excuse to test the highway behaviour of the Chevrolet Malibu LTZ on a long drive, and partly to meet our resident desert-safari-driving friend, who happens to live in that rocky city.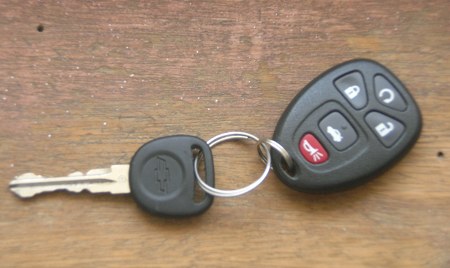 Stepping into a car on a 36-degree afternoon is always a butt-burning experience, if only for a few minutes, but even that can be countered in the Chevy Malibu. That's because the LTZ is fitted with a remote starter, which allows the car to be started from your living room, as long as the locked car is within range. That also means the a/c starts with it, and cools the car long before you enter it. It is the only car in its class to have this feature.
We didn't leave it running long enough, so we still sweated a bit in the initial stages, considering our car has no tint. No rear vents either. However, the single-zone automatic a/c is phenomenal, and after about 10 minutes on "auto," we turned down the fan speed to its slowest setting and raised the temperature setting to 21 degrees Celsius, and we were still freezing. Unbelievable.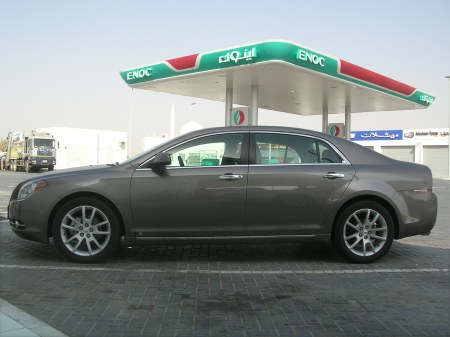 We set out from Karama in Dubai at 3 pm with a full tank, on to the Nahda area of Sharjah to pick up an oaf, and then hit Emirates Road for a straight jaunt to RAK, with some uneven city-driving there too. We only encountered mild Saturday traffic, so our speeds were usually 10 kph above the limit, with occasional bursts of acceleration, but largely subdued driving to get a realistic view of fuel consumption.
The ride quality is ever-so-slightly firm, and therefore there was no Toyota-like floatiness over large dips on the road. But it was still superbly smooth, even for rear passengers who sit almost on top of the rear tyres. The steering also had a bit of weight on it, so there was none of that Nissan-like looseness that sends a car off-course at the slightest sneeze.
It was also among the quietest cars we've ever driven, with wind and road noise kept well at bay, along with a muffled engine that is silent in sixth gear. All in all, we'd go as far as describing the ride quality to be as good as a new BMW 7-Series.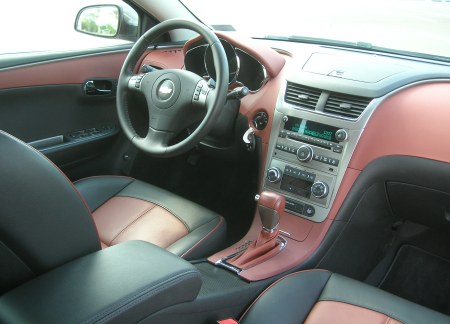 It helps too that the interior is a pleasant place to be in, with a two-tone orange dash and chrome-ringed gauges to stare at, instead of the usual monotone black, brown or grey treatments seen in Japanese-branded midsizers, most of which aren't even from Japan any more. The only thing we missed is more padding on the door armrests.
After almost 90 minutes, we reached our destination totally relaxed and sweat-free, with the car totally unstressed and still with an 80% full tank. Cruising at a maximum of 130 kph for about two-thirds of the trip, we managed an average of 10.1 litres/100 km from start to finish, which is pretty damn good for a 3.6-litre V6. We look forward to doing a true economy test later on, to see how low we can push that figure. But for now, we were content to reach there in time to watch a World Cup football match in the company of friends, while still pondering over what colour our golden-greyish-brown car is.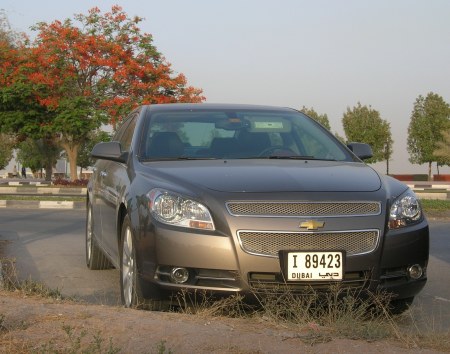 Read more about our GM-provided 2010 Chevrolet Malibu LTZ in the exclusive Long-Term Reports section.