Ford F-150 Harley Davidson 2011 edition debuts

Ford releases a "Harley Davidson" edition of their F-150 pickup truck almost every year, and this year is no different. The latest 2011 F-150 Harley-Davidson Edition will get the new 6.2-litre V8 powerplant that first debuted in the 2nd-generation F-150 Raptor.
The 6.2-litre replaces the aging 5.4-litre V8, bumping up the juice from 320 hp and 528 Nm of torque to a more useful 411 hp and 588 Nm, mated to a "SelectShift" automatic and possibly just a two-wheel-drive setup.
The 2011 F-150 Harley-Davidson Edition also gets stickers, an upgraded instrument cluster with a full-colour 4.2-inch LCD display and a voice-controlled navigation system with the SYNC multimedia kit.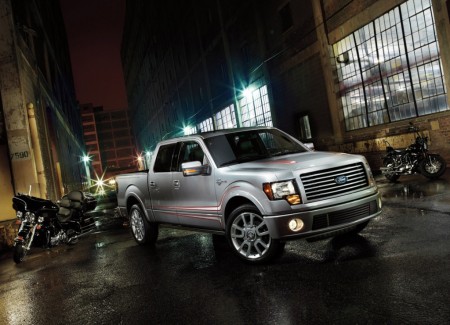 According to Ford, this will be the 17th version of the F-Series truck badged in the motorcycle maker's name. This version has never been offered in the GCC, although private imports have made their way here. The regular Ford F-150 is available in the UAE.