Renault Latitude 2011 debuts as Safrane replacement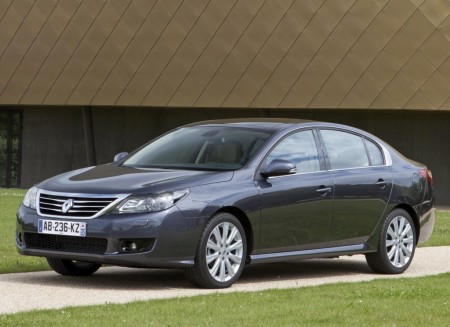 Renault has launched the new Latitude midsize sedan model in its continuing bid to become more mainstream rather than quirky. The Latitude's world debut was at the 2010 Moscow Auto Show, and will be built in Russia for their local market, but the car is already on sale in Korea as the Samsung SM5, and it is this Korean one that will probably make it to the GCC eventually as a replacement for the Renault Safrane.
The Renault Latitude has a choice of three powerplants. The base one is a 139 hp 2.0-litre 4-cylinder with a CVT transmission, the mid-range one is a 177 hp 2.5-litre V6 with a 6-speed automatic, and some markets will get a 240 hp 3.5-litre V6 with an automatic, derived from old Nissan models.
Features, whether standard or optional, include a power driver's seat with a massager, triple-zone automatic climate control, air quality control management system with a dual-mode air ioniser and double fragrance diffuser, hands free electronic key card, turning bi-xenon headlights, choice of audio systems including "3D Sound by Arkamys" as well as a "Bose Premium" system with digital audio connector, a TomTom navigation system, panoramic glass roof, cruise control, a rear-view camera and an automatic parking brake. Not all features will likely be available in the UAE when it comes here.
The Renault Latitude has the usual safety features, such as ABS, optional stability control, up to 8 airbags and seat-belt retractors with integrated load limiters.
The Latitude would become the latest Renault model to come from a factory outside France, as the manufacturer pushes to cut costs, become more mainstream and compete better in emerging markets such as the Middle East. Expect a local debut by the end of the year.
Keep track of updates in the Renault buyer guide.