Ferrari 458 Italia investigated and recalled for catching fire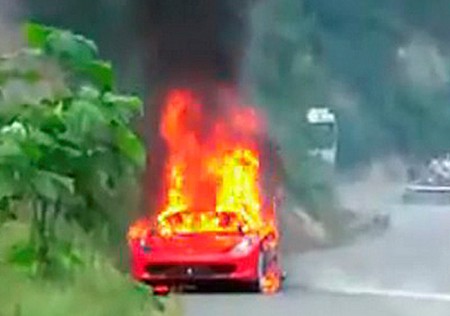 There is a lot of hype over the investigation into 1993-2004 Jeep Grand Cherokee models, like the one we own, over it catching fire, but only when hit from the rear due its rear-mounted fuel tank. Only 44 cases have been reported among the 2.3 million sold, and the "fix" is as simple as installing the optional metal skidplate that already comes in offroad models like ours. In contrast, the Ferrari 458 Italia has been on sale for maybe four months now, and maybe 200 are estimated to be on the streets so far. And 10 have already gone up in flames, with one even while sitting in a warehouse doing nothing. Update: Recall and reasons for the fire have been announced.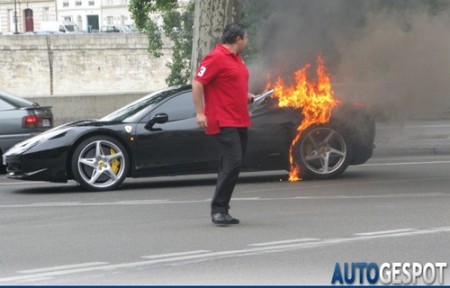 According to The Sun newspaper and various other reports, there have been at least three separate instances where Ferrari 458 Italias have burst into flames without being involved in an accident. Ferrari says these three cases are unrelated.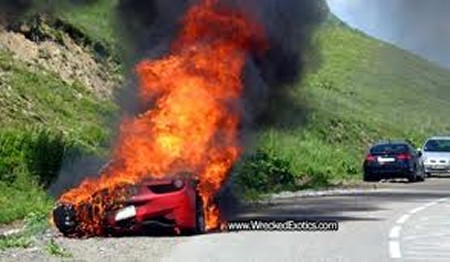 Seven more have caught fire after accidents, even though most other cars survive major accidents without going up in flames.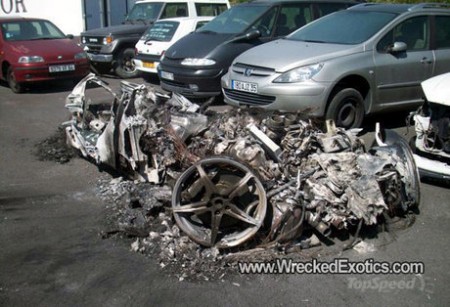 The Ferrari 458 Italia even seems to melt completely during a fire, likely due to the special lightweight materials used to build it.
Update: Ferrari now says the problem had been traced to the adhesive used in the wheel-arch assemblies. In some cases, the glue can begin to overheat, smoke and even catch fire, as the melting adhesive can lead the engine heat-shield lining to deform and move closer to the exhaust, causing the lining to catch fire. The owners who first reported the fires will now receive a new model, while the rest will be modified to replace the adhesive with mechanical fasteners. Yes, a car selling for Dhs 1 million is held together with cheap glue.