Ford Explorer 2011 Police Interceptor U.S. debut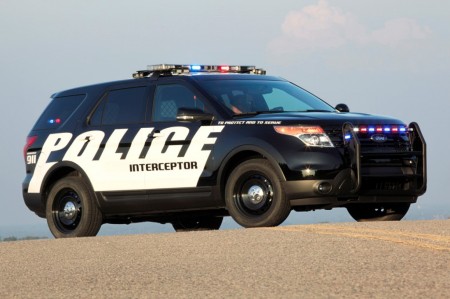 Ford has revealed its newest "pursuit-rated" vehicle, namely the 2012 Explorer Police Interceptor Utility, for police department units that need to haul more cargo or have a need for at least some offroad capability.
Production of the long-running Ford Crown Victoria Police Interceptor ends in late 2011, so the American firm has been busy rolling out modern replacements, first the 2012 Ford Taurus Police Interceptor and now this one based on the all-new 2011 Ford Explorer crossover.
Ford's new Police Interceptor Utility is equipped with a 3.5-litre V6 engine capable of "at least 280 horsepower" and is mated to a unique 6-speed automatic transmission that combines lowered initial gears for improved off-the-line acceleration and higher gearing for improved efficiency at lower engine rpm when cruising.
To make sure the police Explorer can take the heat literally, the all-wheel-drive drivetrain is equipped with a water-cooled power transfer unit that guarantees capability in all conditions. Across the board, brakes have been increased in size and performance, and the cooling package features a heavy-duty alternator and larger radiator. Standard 18-inch wheels are vented, working with an "enhanced" brake system.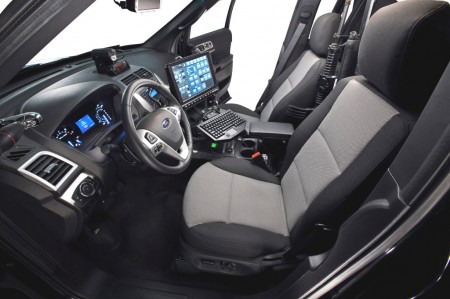 The front seats are designed with a lower bolster to accommodate utility belts, and offers a column shifter designed to leave the console area free for the police computer.
Other features the Ford SYNC hands-free information system for the ability to operate various communication and audio equipment by voice control, blind spot information system, cross-traffic alert, rear view camera with sensors, electronic stability programme with the much-needed roll stability control, and interestingly, remappable steering-wheel controls to offer the flexibility to work specifically with police aftermarket equipment and customise voice-controlled lights and sirens at the push of a button.
The regular 2011 Ford Explorer "crossover" will likely debut in the UAE, Saudi Arabia and other GCC countries by the end of the year.
Keep track of updates in the Ford Explorer buyer guide.