Chevrolet Aveo 2012 to debut at Paris Motor Show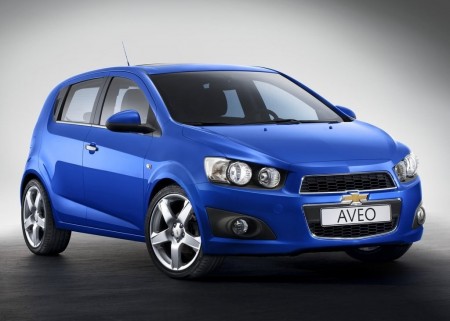 The all-new 2012 Chevrolet Aveo is going to be publicly shown for the first time at the 2010 Paris Motor Show. So far, the hatchback version has already been shown as a nearly-ready concept, and now the version to be shown is pretty much production-spec, as seen in these early photos.
The Aveo will come with a variety of engine choices, depending on market, including a 70 hp and a 86 hp 1.2-litre, a 100 hp 1.4-litre, and a 115 hp 1.6-litre, all 4-cylinder engines. Available transmissions, depending on engine, will be a 6-speed automatic as well as a 5-speed or 6-speed manual.
No interior photos have been released, although it should be nearly similar to the one in the earlier concept, minus the fancy leather and chrome. Features will still include digital gauges, stereo with AUX input and Bluetooth. Also, electronic power steering, stability control and ABS brakes will be standard.
The new Aveo will go on sale in the U.S. and Europe by mid-2011, so it will be a while before it comes to the GCC.
Keep track of updates in the Chevrolet buyer guide.