So we got a 2011 Skoda Superb 3.6

For those not in the know, Skoda is a Czech brand owned by Volkswagen. Skoda does fine in Europe, selling variantions of VW platforms alongside Seat and Audi. But thanks to sub-standard dealers and all sorts of internal politics, the brand never took off in the UAE. Now a new dealer has taken over sales of Skoda in the UAE, and they are looking to move cars in a big way instead of playing second-fiddle to VW. To coincide with the launch of their Dubai showroom a couple of weeks ago, dealers Ali & Sons released the 2011 Skoda Superb 3.6, which is the car we are currently testing.
The understated-but-stately Superb is in a curious position. On one hand it is clearly a midsize sedan in length, but on the other hand, it has a seriously stretched wheelbase comparable to full-size sedans. In fact, it is based on an elongated VW Passat platform.
That length is very obvious in its profile, especially since the rest of the car is low and narrow. The interesting rear end has four exhaust tips, a lip spoiler and a prominent "4×4" badge!
The interior is solidly built, even if some gaps are a bit wide. Material quality is very good, with a soft-touch upper dash, upper door sills, centre console and even glove box cover. There are some bits of hard plastics within reach, but nothing worse than what we've seen before. The touchscreen controls the stereo, but there is no navigation.
The seats are part leather and part alcantara, both powered up front. Space is good.
The rear is amazing in how much legroom it offers, easily as much as a full-size car or maybe even more, although headroom is average. Passengers get two pop-out cup-holders, pull-up sun blinds, pillar-mounted a/c vents and a big LCD display on the central console showing time and temperature.
The trunk lid opens up to reveal a massive boot, but the opening is a bit small if you plan to stuff a fridge back there.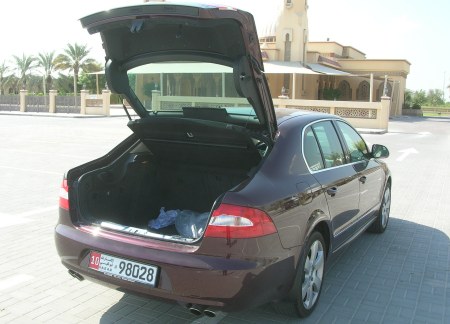 But to impress your friends as they load that fridge for you, the tailgate can also open up like a liftback, making the opening much larger. There are also convenient little hooks in there to hold small grocery bags.
The Skoda Superb is a "nice" car in the truest sense of the word, but it faces stiff competition simply because of its asking price, which pits it directly against a whole host of established nameplates. We'll discuss that further, as well as extol the virtues of its driving performance in the full review.
Update: It turns out the Skoda Superb has automatic parallel parking and we didn't realise it until later.