Roush Ford Mustang 5XR 2011 now in UAE as Shamal 500R

Roush unveiled their 5XR tuner sports car, based on the 2011 Ford Mustang GT 5.0, back in October in the United States. And according to Ford's dealer website in Dubai, the Roush Mustang is already officially on sale in the UAE alongside the regular Mustang GT and the Shelby GT500. The 5XR package, which includes "RoushCharger" engine upgrade components, is seemingly being called the "The Shamal" 500R kit in the GCC.
The base "5.0" motor has been tuned to become a supercharged 5.0-litre V8 good for 525 hp and 630 Nm of torque, mated to a 6-speed manual transmission.
Available as a coupe or convertible, the Roush Mustang features an aggressive body kit with a unique front fascia, side skirts, a modified rear valance, rear-quarter window louvres, front chin splitter, and a three-piece decklid spoiler, as well as a billet grille, sportier suspension and 20-inch wheels with Cooper RS3 tyres.
Alongside regular Ford items such as the SYNC telecom system, Shaker audio and a 3.55 limited-slip diff, other Roush-specific features further include a ball shift knob, aftermarket exhaust, floor mats, leather upholstery, door sill plates, upgraded brakes, a whole bunch of badges, all with full warranty. Also included are "Shamal" graphics, which will not carry a warranty.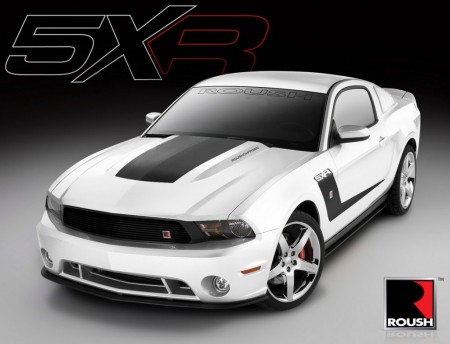 Roush announced that production will be limited to 150 units and pricing for the partial package starts at the equivalent of Dhs 57,000 just for the parts, on top of the cost of the Mustang GT. We assume it will go for well beyond Dhs 250,000 if you want to pick one up from a showroom in Abu Dhabi or Dubai.
Keep track of brand updates in the Ford buyer guide.