Lexus LFA sold in UAE by invitation only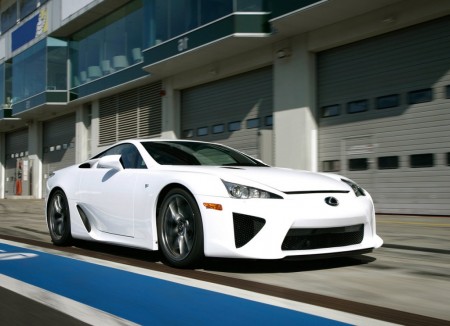 Al-Futtaim Motors, the exclusive distributor for Lexus in the UAE, has announced that the Lexus LFA supercar will be displayed in Dubai and Abu Dhabi from the 9th to the 19th of February this year. The "most powerful road-legal Lexus ever" is being put on show to give the poor masses a chance to see the LFA from a bit closer, but without touching, as the car will be sold by invitation only.
The Lexus LFA will be parked behind ropes at the entrance to Abu Dhabi's Emirates Palace hotel on February 9th to the 12th, then at the Lexus showroom at Dubai's Festival City on February 13th to the 15th, then at Dubai Mall from February 16th to the 19th.
Production of the LFA is limited to 500 units worldwide and purchase is by invitation only, and its purpose is to serve as the flagship 'halo' model for Lexus, so that it's personality can somehow influence consumers to take a closer look at other Lexus models. Just look at what the Nissan GT-R did for the Altima, and the Honda NSX for the Civic, in terms of street cred.
The Lexus LFA has a 552 hp 4.8-litre V10 engine, good for a top speed of over 320 kph and a 0-100 kph time of 3.7 seconds. The body made of carbon-fibre and makes the car 100 kg lighter than an equivalent aluminium body.
Customers invited to buy the car can personalise the Lexus LFA in undefined ways, likely in terms of colour schemes inside and out. There are apparently enough customisable options to ensure no two identical models will exist in the UAE.