Oshkosh MRAP & SandCat at IDEX 2011 in Abu Dhabi

Oshkosh Defense, a division of the Oshkosh Corporation that is better known as a maker of airport fire trucks, is showcasing their latest range of military vehicles at the IDEX 2011 defence exhibition in Abu Dhabi. Oshkosh Defense makes vehicles for operations such as cargo hauling, vehicle recovery, surveillance and reconnaissance, troop transportation, and weapon-system support, or rather, everything short of a tank.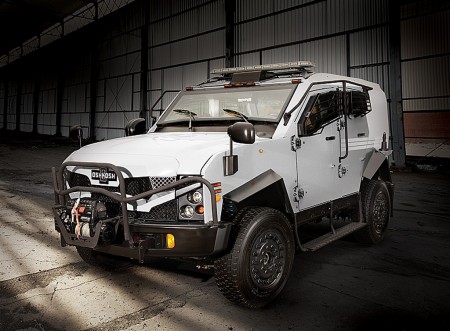 Oshkosh Defense was apparenty founded more than 90 years ago as a maker of off-road vehicles. The vehicles on display at IDEX include the Oshkosh MRAP All-Terrain Vehicle, the Global Heavy Equipment Transporter, the MTT Medium Tactical Truck 6×6 and the SandCat Patrol Vehicle. The MRAP is especially tipped to replace the Humvee eventually due to its better armour against roadside bombs, while the SandCat is popular with city police SWAT teams.
Oshkosh is already a supplier to military outfits in the UAE and other Middle East countries.