2012 Mercedes-Benz A-Class previewed as concept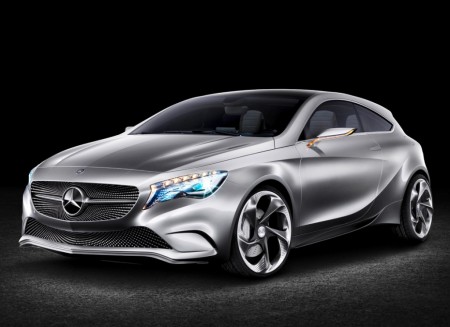 This is the concept version of the 2012-2013 Mercedes-Benz A-Class. If you recall, the A-Class is the German carmaker's smallest model that flopped in the GCC a decade ago, but continued to thrive in the European market. It looks like the A-Class is ditching its dorky height and gaining some length soon.
This concept is an exaggerated version of the front-wheel-drive A-Class that will debut sometime next year. The "Concept A" gets a turbocharged and direct-injected 210 hp "BlueEFFICIENCY" 2.0-litre 4-cylinder engine, dual-clutch automanual transmission, and accident-prevention gadgets from the S-Class.
We hear that Mercedes-Benz isn't too keen on playing with the poor crowd in the UAE, so it is likely this model will not come to the GCC anytime soon, if only to not steal sales from the B-Class. Wait, is the B-Class still around?