Apollo Tyres expands facilities in UAE for GCC hub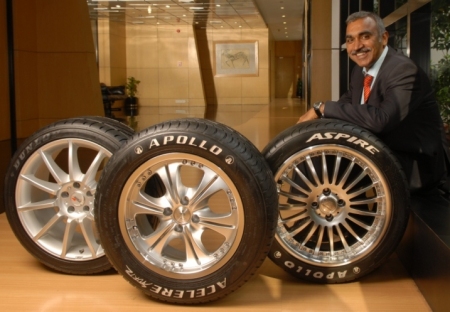 India's leading tyre manufacturer, the US$ 2 billion Apollo Tyres Ltd, today announced its plans for the Middle East market at a media gathering in Dubai. The region will be catered to by exports out of India, with Dubai as the hub of operations.
The region has traditionally been one of Apollo's strongest export markets, out of India, accounting for about 30% of export revenues. The company already has a distribution network in the Middle East, spanning 14 countries and 23 business partners. The Middle East also has infrastructure and tyre usage very similar to India's, which is why Apollo's products have always enjoyed high acceptance in the region.
Dubai, as the world's largest free trade zone with strong financial systems and legislation, is the perfect business destination. Dubai is also strategically located with easy access to the 1.5 billion strong consumer market in the GCC, West Asia, Africa and East Europe. Dubai itself is the largest tyre distribution hub in the region, and provides a booming domestic market with 1 car to every 1.8 individual.
Said Satish Sharma, Chief, India Operations, Apollo Tyres Ltd, "As a company we are currently in our 2nd phase of global expansion. The Middle East region has always been a natural extension of our markets in India. Our tyres have enjoyed a very high demand in the region, for years now. However, due to capacity constraints at our end, we have not been able to fulfill the local demand. I am happy that we have crossed that. With an active sales and service team based here, we will now be able to provide our customers in the Middle East the service and operational excellence they deserve."
To this end, Apollo today opened its first and largest office outside its operations in India, Southern Africa and The Netherlands. This 2,000 square feet office located in the JAFZA Free Economic Zone will be the company's base in Dubai, and the reporting base for employees in Iran, Saudi Arabia and Turkey.
Apart from an office, the company has also taken up an expandable 10,000 square feet of warehousing space in Dubai, to stock its tyres locally for speedy demand fulfilment in the region. This also enables Business Partners to have low inventories, cutting down on stocking costs; the ability to pay in local currency with no bank charges, and of course faster demand fulfilment to the end customer.
"The office, network of employees and local warehousing facility will allow us to address customer demands effectively; while our entire range of tyres tuned to this market, along with our service proposition, will allow us product leadership over time," mentioned Satish Sharma, Chief, India Operations, Apollo Tyres Ltd. He added: "This is a high potential market, where the Dubai tyre distribution and re-export trade is valued at US$ 1.5 billion, and expected to grow by 30% in the next 5 years. In that time frame I am looking at Apollo garnering a high single digit, if not 10%, of this market's share."
Apollo Tyres has already invested around US$ 250,000 in creating appropriate permanent infrastructure for its business needs in Dubai; and is projecting investments and expenses of around US$ 1.5 million on an annual level, starting this year.