2012 Dodge Charger Pursuit police car debuts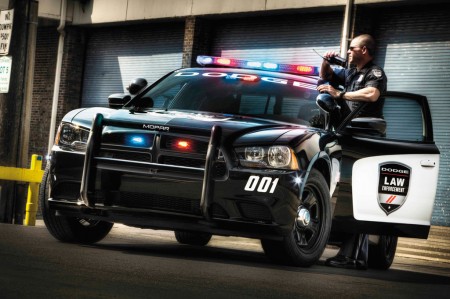 We love the new Charger. Add a black and white paint job with flashing red and blue lights, and it makes us go weak in the knees. That is exactly what Mopar has done with its 2012 Dodge Charger Pursuit police car ready to chase down the 2011 Ford Police Interceptor that we saw last year.
The law enforcers can either order a pre-prepped Charger Pursuit from six available options or order any of the 24 Mopar parts separately. They can get anything from a 100-watt siren to flashing lights all over to trunk ventilation for those occasional incidents when a cop locks himself in.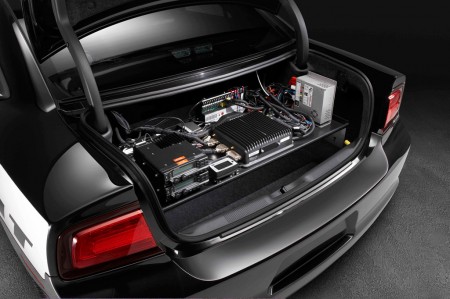 A complete list of the Mopar parts includes items like a push bumper, grille lights, corner LED lights, various light bars, police floor console, trunk tray with cooling fan<, wire harnesses for a power distribution centre to fit extra gadgets and more. Power is sent to the rear either through the 292 hp 3.6-liter Pentastar V6 or the 370 hp 5.7-liter Hemi V8; both stock with Dodge's Fuel Saver technology. With huge financial cutbacks, the battle between the Charger and the Interceptor will be defined by their respective EPA ratings saving up on fuel costs in the long run. All cars are equipped with load-leveling Nivomat shocks, heavy-duty anti-lock vented-disc brakes (ABS), front- and rear-stabilizer bars, 18-inch performance tyres on steel wheels, a two-mode police-specific Electronic Stability Control (ESC), column-mounted shifter with Auto Stick, multi-stage driver and front-passenger air bags, seat-mounted side-thorax airbags, supplemental side-curtain airbags for front and rear outboard passengers and driver's knee bag. With the penchant of local police departments of stocking up on show police cars, we won't be surprised if one of these shows up in an exhibition hall. [gallery]