So we got a 2012 Volkswagen Passat CC V6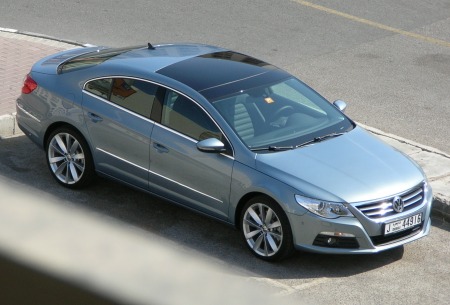 Back in the early days of summer this year, we asked Volkswagen Middle East if they'd be interested in providing us with a long-term car. We were fine with any car, as long as it was for a decent amount of time, and we even offered to pay part of the cost. They soon got back to us, offered us a VW Passat CC V6 for no cost, and even let us choose the colour. While we didn't ask for any specific colour, we found it rather astounding that VW would import a brand-new unmolested car from Germany just for our test. And so here it is — the 2012 Volkswagen Passat CC, in some sort of blue-silver-grey hue, and our mascot for the next four months.
Expectedly, the only badge in the rear is a "CC" in chrome. Apparently VW started removing the "Passat" badge in some markets to avoid confusion with the regular Passat. And yet, it is still referred to as the Passat CC in marketing materials. There are no "V6" or "AWD" badges either to differentiate it from the smaller-engined base models. Incidentally, this is probably the last year that the CC will have the pretty chrome face, as a facelifted production-ready model has already been spotted in testing, likely with the new dark-grilled corporate face.
Not that we have anything to complain about. Our 300 hp 3.6-litre V6-powered all-wheel-drive test car came with many features from the VW options catalogue, including keyless start, navigation, 8-speaker touchscreen stereo, Xenon turning headlights and fog lamps, automatic parallel-parking, rear camera, Bluetooth with voice control, partial panoramic glass roof, automatic a/c, real wood and aluminium trim, "Nappa" leather and 19-inch "Lugano" alloy wheels, among other items.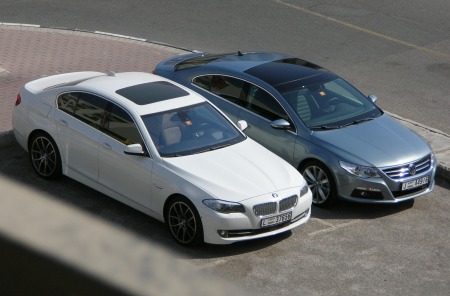 We picked up the CC with 450 km already on the clock. We didn't pick it up earlier because we already had a BMW 550i scheduled for two weeks. No doubt, those 450 clicks probably involved hard driving at someone else's hands, but at this point we've chosen to drive it as we're supposed to for the break-in period, so we're not pushing it.
It's rather interesting to note that the CC gives off almost the same premium feel of the BMW at less than half the cost. This is going to be an interesting few months.