Toyota FT-86 production version Japanese brochure leaked

A couple of pages from the the Japanese brochure of the production-version Toyota FT-86 has been leaked onto the net. Considering the absolutely random nature of the pages, we think this "leak" might even have been deliberate. Update: More leaked images added.
The car seen here is not the regular version, but rather the Japan-only Modellista version with a cheesy body kit, wheels and chrome side-strips. Still, the design cues of the basic FT-86 are obvious and unfortunately dumbed down a lot compared to the fancy concepts that Toyota has been tempting us with.
The interior shots show a sparse cabin, with the transmission choices being a proper manual as well as an automatic whose shift-knob imitates a manual look.
The Toyota FT-86 was developed in conjunction with Subaru to keep costs low. Word is the production version of the Toyota FT-86 as well as its Subaru BRZ sibling will debut in a month or two. Both cars will have rear-wheel-drive and 4-cylinder "boxer" engines, but the Toyota will get 200 hp, while the Subaru will get nearly 300 hp, possibly with a turbocharger.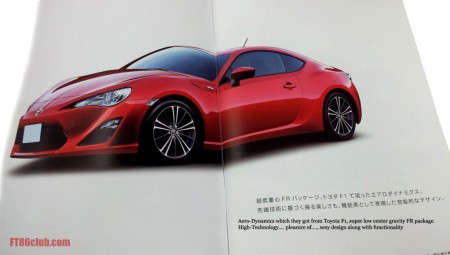 Later, more brochure scans emerged on the internet, showing the standard version of the FT-86. However, questions still remain on what the car will be called.