Long-term update: 2012 VW Passat CC gets a bath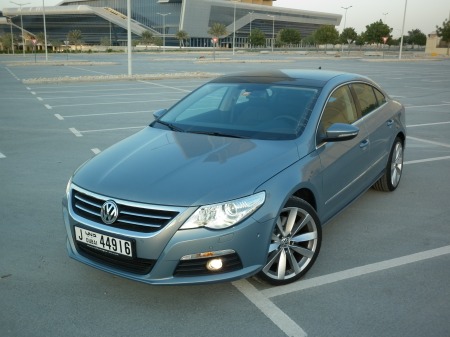 The last few weeks were pretty awful in terms of weather. Daily sandstorms took a toll on cars in Dubai. It was even worse when, you think the worst of the dusty weather is over so you wash your car, and then there is yet another dust-storm the next day. Frustrating indeed. And it took a toll on a car's performance too.
But first thing's first. Our 2012 Volkswagen CC took a minor hit from behind by an ancient Kia Carnival at the valet area of the Atlantis hotel. I was pissed, until I took a look at the damage. The white Kia's front bumper was cracked, but nothing happened to the VW except for some tiny scratches and a whole lot of white paint transfer. A bunch of Chinese dudes came pouring out of the minivan, all freaked out. When I tried communicating with them, they spoke nothing but Chinese. So I said "it's all good" and went off, because it was the kind of accident that cops get pissed off at you for, since you're wasting their time over a scratch.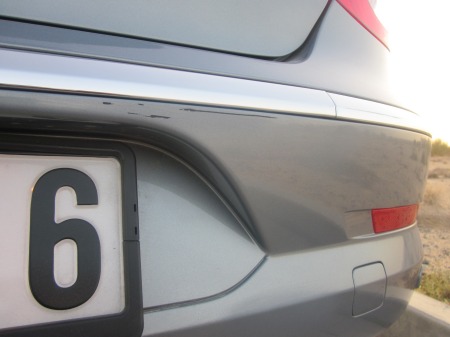 I then went to my old friend at Farba Guard to bring back the shine around the scratched area. They buffed out the rear bumper, so only the dark bits remain where the paint has come off. I'm still surprised at how solid that rear bumper is. I guess there are still some German cars out that aren't just all made of crumply plastics.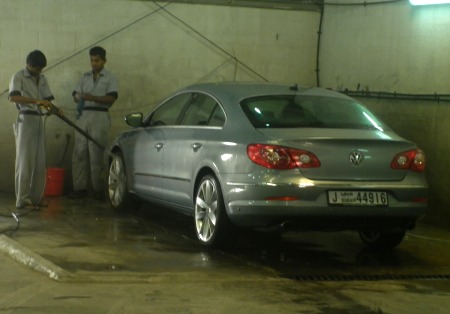 I finally got the car washed there as well, after accumulating 2 weeks of desert-dandruff. Incidentally, our fuel consumption went up by about 0.5 litres/100 km in the crap weather. We also tested some other cars in the middle of sandstorms, and got 0-100 kph times that were longer by 10% compared to previous tests we did with similar cars. All that sand flying into your air filter is never a good thing.
But after nearly five months with the Volkswagen, I have to say that I trust the brand more now. If you remember, I was the loudest one to trumpet about how unreliable Volkswagens were before. Half-a-year still isn't enough time to gauge long-term reliability, but as we approach 10,000 km, I have to say that I've seen some other test cars start to fall apart by now. Everything on the VW is still in one piece.
Original Mileage When Borrowed: 435 km
Latest Mileage To Date: 9,749 km
Latest Average Fuel Economy: 11.8 litres/100 km
Cost of Latest Problems: Dhs 0
Cost of Latest Maintenance: Dhs 0

Total Non-Fuel Running Cost Since Borrowed: Dhs 0