Mercedes-Benz SL 63 AMG 2012 roadster revealed at Geneva Motor Show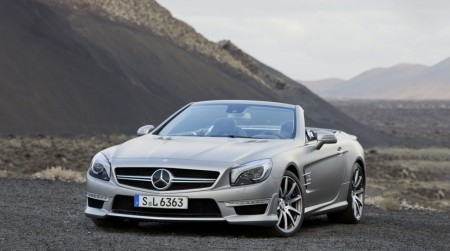 Mercedes-Benz has revealed the all-new 2012 Mercedes-Benz SL 63 AMG roadster at the Geneva International Auto show. Slated for release shortly after the debut of the new-generation Mercedes-Benz SL 550 roadster later this year, this AMG kin features more power, lighter weight and better fuel efficiency.
The SL 63 AMG will be available with a 5.5-litre twin-turbocharged V8 engine delivering 530 hp and 800 nm of torque. With an optional AMG Performance Package, the same engine is made to unleash an extra 27 horses and 100 nm of torque, raising the figures to 557 hp and 900 nm of torque. Mated to an AMG 7-speed dual-clutch sports transmission, the SL 63 AMG, when armed with the optional performance package, can walk past 100 kph in about 4.2 seconds before being electronically withheld at 300 kph. The engine is also claimed to be more fuel-efficient with fuel-saving technologies such as an ECO stop/start system being integrated. Other features include adjustable dampers,  three-stage ESP, multitude of driver-assist and safety systems, choice of premium audio systems, automatic pop-up roll-over bars for driver and front passenger and much more.
Expect the all-new Mercedes Benz SL 63 AMG roadster to arrive in the UAE, Saudi Arabia and rest of GCC by end of this year.