Motus MST bikes revealed at Daytona BikeWeek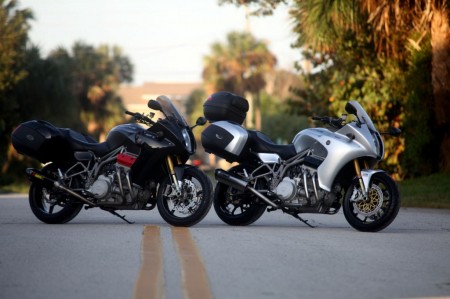 Motus, an American motorcycle manufacturer, has unveiled their latest 2013 Motus MST motorcycles during the 2012 Daytona Bike Week, with full 2012 production plans including pricing, accessories, specifications, availability, and an initial list of authorized Motus dealers.
Available in two variants, namely the MST and MST-R, each powered by a V4 baby block 1.6-litre engine producing 165 hp in the former and 185 hp in the latter applications, the Motus MST motorcycles boast a host of features including, electronic fuel-injection, electronic throttle control, Öhlins front and rear suspensions, Brembo brakes, optional heated seats and grips, and optional adjustable and touring windscreens.
Slated for a mid-2012 release across the US, prices for the Motus MST bikes kick off from an equivalent of well over a whopping 110,000 Dhs for the base model, and over 135,000 Dhs for the MST-R variant. Should any biker within the UAE or anywhere in the GCC, decide to bear the buying and import costs to own a Motus MST model, then the luckiest of us will probably catch a glimpse of the MST bike in action on the local roads.