Ferrari 599XX Evoluzione makes track debut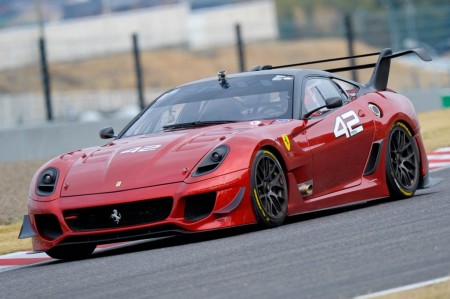 The Ferrari 599XX Evoluzione has made its track debut at the Ferrari Racing Days held in Suzuka, Japan, an event which include track sessions for the Ferrari clients who are involved in the Ferrari XX and F1 programmes, whereby the participating clients blessed with deep pockets, shell out big bucks to test the latest of performance and other enhancements from Ferrari, before they are implemented on Ferrari's future models.
Rather than a new car altogether, the Ferrari 599XX Evoluzione is essentially the previous 599XX model clad in the Evolution upgrade package, which includes a bigger front splitter, a new rear-diffuser featuring a larger surface area, and redesigned fences and foot-plates, a giant-size active rear wing, a 30 hp power bump for a massive 740 hp, and two years of factory-backed track days. The new upgrade package allows the 599XX to lap Ferrari's Fiorano test track in just 1:15 – a full second faster than the 599XX sans the Evoluzione package.
For those whose pockets are deep enough to own a Ferrari and pay big for testing the latest Ferrari equipment, the Evolution kit for the 599XX costs an equivalent of close to a million Dirhams. The rest may now upgrade their dream Ferrari for free of cost, in their dreams.