First drive: 2012 Nissan Micra in the UAE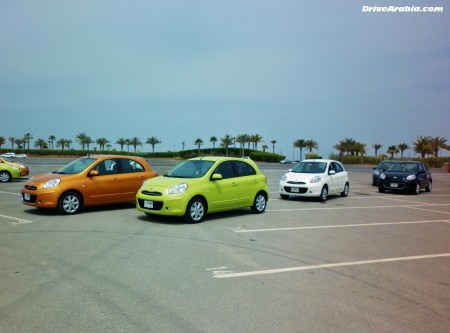 When we were hanging out at the 2012 Nissan Micra's GCC launch in the UAE, we heard that almost every British expat has had seat-time in its predecessors dating back to the 1980s, sort of like how everyone here has some experience with the Toyota Yaris. It is interesting then, that Nissan chose to finally launch the fourth generation in the Middle East to do battle with, what else, the Toyota Yaris.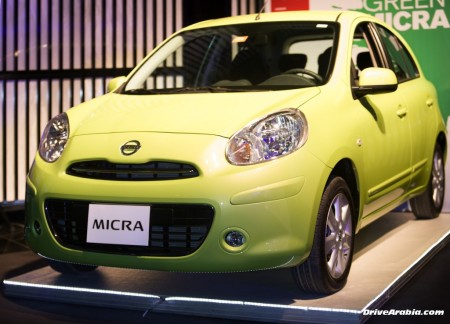 Launched with much fanfare to the media at the Burj Khalifa, including a superb concert with regional celebrity Nancy Ajram herself singing her heart out, the new Micra is anything but glamourous. Rather, it is being targeted at the "youth" market, with inoffensive styling and palette of funky colours. Hard to imagine I was a "youth" just five years ago, but I can't remember shopping for little lime-green or orange cars.
Based on the new Sunny platform, it is Nissan's cheapest car, built to international standards at their plant in India. But it isn't really a Sunny hatchback, because the wheelbase was chopped by 150 mm, giving it more of a "regular-sized" sub-compact interior, rather than the ridiculously-enormous cabin of the Sunny. Still, space is pretty good all-round, even for six-footers.
The cabin is all hard plastic of various basic textures, with cloth door inserts and one right-side padded armrest for the driver only. There are two glove-boxes, three cup-holders, big front-door pockets and fold-down split rear seats that can also flip forward. Features, at least in our top-spec test car, included a basic CD/MP3 stereo, AUX port, auto-fold side mirrors, smart keyless entry and start, strong manual a/c, dual front airbags, trip computer, fog lamps and four power windows. It's a decent set of features, although the pricier Toyota Yaris throws in Bluetooth and a USB port as standard, while they're not even available here.
The Micra does one-up the Yaris on the performance front though. Packing a larger 1.5-litre 99 hp engine, mated to a 4-speed automatic, it should be able to out-muscle the Toyota. But the Micra still isn't a quick car by any means, with the engine revving hard on overtaking moves or just about any time a burst of acceleration is needed.
Where the Micra shines is in actual driving refinement, as we found out on a brief media drive. It offers sharp nicely-weighted steering, meaty brake-pedal feel and taut suspension, everything you'd need to hustle this car around tight corners fast. It can readily outhandle a Chevy Sonic while giving the Yaris a run for its money.
And somehow Nissan has managed to keep it comfortable too, as it rides smoothly over most road surfaces, including on that stupid brick road outside the Atlantis hotel. Road noise and ambient traffic noises are noticeable though, but generally we were content with the driving feel of the car in the city.
With a starting price of Dhs 44,500 in the UAE, Nissan has a solid contender on its hands with the Micra. If its styling and origins aren't an issue for you, and you don't care for connectivity, we'd heartily recommend this car to you over any other hatchback in its class. For non-techies, it comes out as being cheaper than the Toyota Yaris, it drives better than the Chevy Sonic, and with standard dual airbags and ABS with EBD, it offers more standard safety than the Hyundai Accent. Of course, if you're a non-techie, you're probably not a "youth" either.