Acura RLX 2013 concept hints at future Honda Legend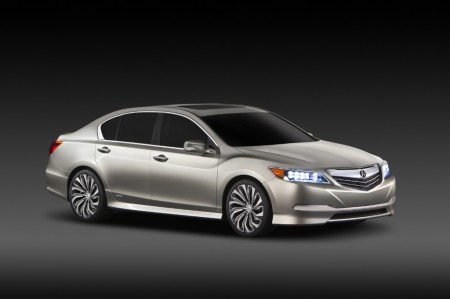 Acura, Honda's luxury brand that is offered only in North America, unveiled the concept version for the 2013 RLX at the recent 2012 New York Auto Show, in an effort to revive its existence in the upper-midsize luxury segment.
Firstly and quite noticeably, the concept features a new design direction for the upscale marque, projecting more elegance than the outgoing RL. The RLX, like most Honda and Acura concepts, is expected to look much the same in production trim. Obviously, an exception is the rather fussy-looking concept wheels, which will be replaced.
The RLX concept packs some new technology under the hood with an all-new 3.5-litre V6 mated to a 7-speed dual-clutch transmission. But the concept also features an advanced Sport Hybrid SH-AWD system that helps boost overall power to a V8-like 370 hp.
The 'hybrid' part of that title includes what Acura is calling a 'unique dual electric motor drive unit with a bilateral torque adjustable control system.' Basically, it is an electric all-wheel-drive setup with torque-vectoring on the rear axle.
Another alternative will be a solitary 3.5 litre V6 with front-wheel-drive, producing 310 hp. The newbie is also marked under 1800 kg, so it should be a brisk accelerator and steady handler.
The RLX will feature state-of-the-art communications, navigation and infotainment technologies with intuitive and easy-to-operate controls and dual LCD screens.
This Acura is also known to offer an extensive array of passive and active safety features as standard, including a Collision Mitigation Braking System and an all-new Lane Keep Assist System. In addition, Forward Collision Warning and Lane Departure Warning will also be offered.
The production Acura RLX is expected to be available in the US by early 2013. Unfortunately Acura is not offered in the GCC, although at one time, this model's predecessor was offered in the UAE as a Honda Legend. The Legend was cancelled here a few years ago due to slow sales.