BMW M5-based Manhart Racing MH5 S Biturbo now in UAE & GCC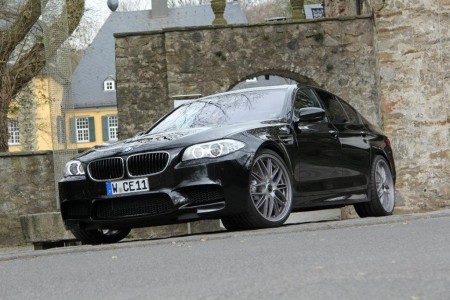 Despite the fact that the performance of the new M5 is undoubtedly quite impressive, specialist tuners from Manhart Racing stepped up the ante to have come up with the all-new MH5 S Biturbo.
They are currently planning to offer customers a choice of three different kits. In this first performance stage, the V8 bi-turbo is designed to generate almost 633 hp and transfer an impressive 780 Nm of torque, hence witnessing an increase of 73 hp over the standard M5.
Plans are currently in top gear to implement 670 hp and 735 hp versions later on, with different stages of performance kits and additional modifications on the turbochargers, downpipes and the exhaust-gas system.
Manhart Racing has also built a self-made flap-controlled sports-exhaust-gas system made of high-grade steel with four diagonally placed 90 mm exhaust pipe-ends, 200-cell sports catalytic converters and downpipes, aiding power boost and an enhanced V8 tune.
Manhart Racing will also offer a self-made 21-inch MHR Classical Wheel set for the new BMW M5. A MHR Club sport coilover kit is also included for improved traction and feedback.
The MH5 S Biturbo with the Classical Wheel set, MHR Club sport coilover kit and the sports exhaust-gas system with flap control will be available from Manhart Racing Middle East and Asia from mid-April in UAE, Saudi Arabia and the rest of GCC, while the first performance stage of the V8-Biturbo is scheduled to be available from the end of April.