Toyota 86 base manual meets top automatic version

When we were driving the top-spec automatic version of the Toyota 86 recently, one of our contributors happened to be testing the base manual version at the same time. So I and George here were in the unique position to check out the differences between the two cars, considering there is a sizeable difference in price between the two.
In the UAE, the manual version of the Toyota 86 can only be had in basic trim. It's fairly-equipped, with 16-inch alloys, CD stereo, Bluetooth, power windows, fog lights and such, so there's not much to complain about. It comes with a soft-touch dash, cloth seats, padded door armrests and stitched faux-leather on the upper door panels.
There's a fair bit more stuff on the top-spec model, which costs a whopping Dhs 30,000 more than the Dhs 95,000 basic model. Aside from the automatic gearbox, the most obvious external changes are the larger 17-inch wheels, the little plastic stick-on "wings" on the rear pillars, and the cheesy chrome trim around the pathetic exhaust tips.
If you pay attention, you'll also notice that there is a different stick-on grille up front on the pricier 86, while it also gets LED-encrusted HID headlights.
The changes are a little more obvious inside. The top model gets leather upholstery and further stitched faux-leather padding on the doors and the centre-console, near the knee area. The plastic around the power-window controls is silver-grey instead of black. Also, in the boot, the top model gets a carpet on the underside of the boot lid, while in the base model, it's bare metal.
There's also aluminium door sills at the bottom, and the central rear-view mirror is of the "frameless" variety, but neither of them are of the auto-dimming type.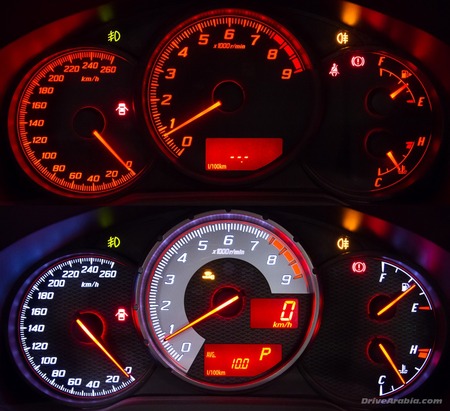 In terms of tech, the differences aren't earth-shatteringly different either. The top model gets a nicer gauge cluster with a digital speedo, as well as dual-zone a/c controls, cruise control and a starter button. Interestingly, the cheap-looking stereo head remains the same, but it's designed to be swappable.
We've just demonstrated what a good value the basic model is. But for an enthusiast, the perfect package would've been a manual that came with HID headlights and 17-inchers as options, but you cannot have them with the stick-shift version. You have to move up to an automatic to get all these features, which is a shame really.
Photos by Faisal Khatib.