So we got a 2013 Fisker Karma ES

Ah, the Fisker Karma, quite possibly the most interesting car we'll ever drive, until electric cars become commonplace here. We snagged a second round with the Fisker Karma for about half a day. While we'd already driven the car in a controlled event, this time we got to really drive it.
This is probably as close as you can get to McLaren-grade attention-seeking with a four-door car. It looks seriously exotic, as befitting its price tag, although it actually costs no more than a well-specced Porsche Panamera.
Aside from attractiveness, there's another thing that the Panamera doesn't have, and that's this big wall plug to charge your car with.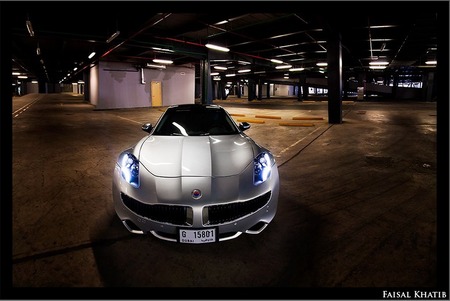 We've got our own performance figures too, so you know exactly how it manages UAE climate, although admittedly today the weather was great. And as usual, we've got lots of photos, shot by Faisal "Chunky" Khatib of course. Full story coming soon.