So we got a 2014 Jaguar F-Type 3.0 S

We landed ourselves a drive with the new Jaguar F-Type, apparently we being the first media to try it out on UAE roads. This is the first Jaguar we've brought home in years, aside from the one we bought recently, although if memory serves us right, they've never built anything like it in decades.
In terms of styling, there's nothing to complain about. Saying it looks "nice" would be an understatement. Oddly enough, the only real visual indicator that ours is a supercharged V6 model are the twin exhaust tips in the centre of the rear bumper, whereas the supercharged V8 version has separate tips at either end of the bumper. Furthermore, there are 2 variants of the V6, ours being the higher-tuned "S" version. The general public couldn't care less about what's under the bonnet, as they took camera-phone pictures anyway.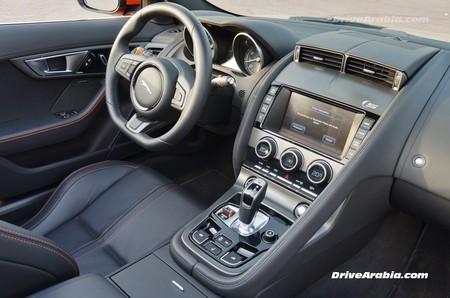 Inside, it's got the ambience to match its high price, with generous dollops of soft-touch materials, leather and gadgetry, including centre a/c vents that pop up when the car is started. Our tester also has the optional sports seats, which may be too aggressive for the casual owner. It's nice in there, but more of a Porsche-grade cabin that's obviously a step down from the almost Bentley-grade interior in our Jaguar XK.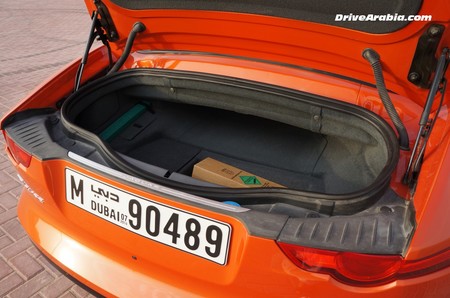 The F-Type isn't some sort of XK replacement like some may think, but rather, plays in a different segment. It's a smaller more-focussed sports car and comes with the drawbacks of one, such as the overly-shallow boot, even without a spare tyre. The number of storage options inside are limited too, but at least there are enough places to stuff your phone, iPod and drink.
The F-Type offers up a different kind of sports car from a brand that's never done one before, aside from hyped-up versions of their grand-tourers and sedans. It comes across as a true rival to Porsche, neatly sitting somewhere between a Boxster and a 911 in terms of price, power, features and feel. We honestly can't think of any other proper sports car that has managed to take on the German sports-carmaker's core models so convincingly, but more on that in the full review.