Fiat testing UAE waters with 500 Abarth and 500L at Dubai Motor Show

There are two new Fiat models on displayed at the combined Fiat-Chrysler Group stand in the Dubai Motor Show. Alongside the Fiat 500, that's been in the UAE for a couple of years now, are the Fiat 500 Abarth and the Fiat 500L. Both cars are here to gauge public reaction, which will determine whether either of those cars join the regular Fiat 500 in the GCC line-up.
The Fiat 500 Abarth comes with a 140 hp 1.4-litre "T-Jet" turbocharged 4-cylinder engine. The special Fiat 595 Abarth on display at the show comes with a similar engine, tuned up to 160 hp.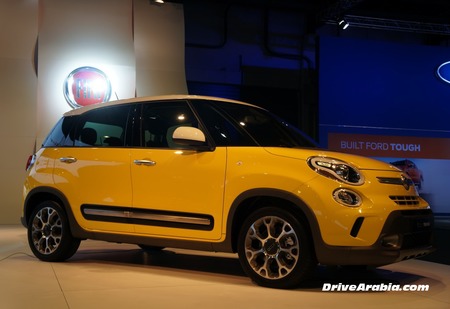 The Fiat 500L is a larger, taller car designed to be funky people-carrier, very spacious on the inside, although it's no larger than a sub-compact car. The version on display is the Fiat 500L Trekking, a slightly-lifted front-wheel-drive version with a 160 hp 1.4-litre turbo engine.
Both cars are part of Fiat's change in strategy for the Middle East region, aiming to be a slightly-premium niche brand rather than a mass-market player.
Photos by Salma Sultana and Faisal Khatib.