2015 Mini Cooper hardtop officially revealed

Mini has released specs and images of the all-new Cooper and Cooper S hardtop model, set to release as a 2015 model. It is larger than its predecessor and features new engines as well.
The new Mini looks quite similar to the old one. It is the same height but it is bigger overall, offering more interior space for its occupants. It is 114 mm longer and 43 mm wider than the current model. Notice how they're using design tricks like larger tail lamps and wheel arches to make it look smaller.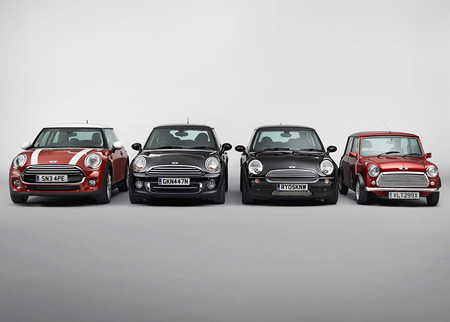 The Mini Cooper will be getting a twin-turbocharged 1.5-litre 3-cylinder engine, producing 134 hp and 219 Nm of torque (230 Nm with overboost). The Cooper S gets a twin-turbocharged 2.0-litre 4-cylinder engine producing 189 hp and 280 Nm of torque (299 with overboost). The Cooper goes from 0-100 kph in about 7.7 seconds and the Cooper S does it in about 6.7 seconds. They can both be had in either a 6-speed manual or a 6-speed automatic transmission.
Expect the 2015 Mini Cooper to hit the UAE, Saudi Arabia and other GCC countries by the summer of 2014.
Keep track of the latest prices and updates in the Mini Cooper buyer guide.