First drive: 2014 Mercedes-Benz GL 500 AMG in the UAE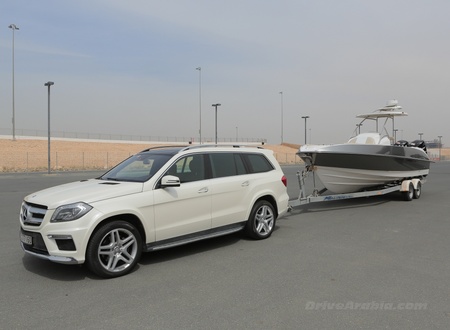 Mercedes-Benz built its reputation on luxury cars over the course of a century. Then there was that one time in the early 70s when they dabbled with a 4×4 for a military contract. That was the G-Wagen, which quickly went civilian later, but it wasn't until the 90s that it evolved into the form it is today. Mercedes-Benz got the hint that the world is ready for a mainstream three-pointed-star SUV, and came up with the M-Class by the late 90s. And the rest, as they say, is history. Today, aside from the patriarch G-Class, the midsize M-Class and the compact GLK-Class, there's the full-size GL-Class. We managed to get some seat time in the current GL 500 at a recent Mercedes-Benz media event highlighting their SUV offerings.
Redesigned less than two years ago, the 2014 Mercedes-Benz GL-Class is a subtly handsome vehicle, helped a lot by the AMG kit that was on our tester. However, it will never turn any heads, precisely because it is a subtly handsome vehicle.
Inside, all the trim and materials are top-notch, with real wood and stitched leather dominating, as they should in this price bracket. However, there's nothing to wow you in there either, in terms of design at least. There's an LCD screen and a deluge of buttons below it, including a telephone number-pad; and there's tons of gadgets, including powered headrests and seat-coolers.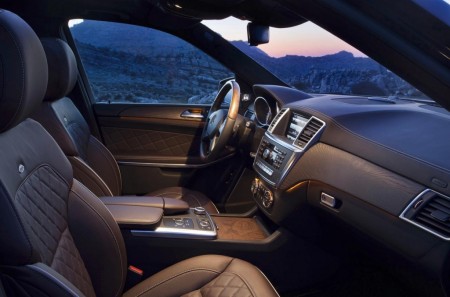 It's spacious in there, at least from what we could see from the front seats. It's a way more practical package than the G 500 Geländewagen, which is just an old unrefined offroader with leather and power, as per our brief encounter.
The GL 500 is easy to drive in the city if you're used to big cars and rear cameras. On the highway, it's smooth enough on most surfaces with the low-profile tyres wrapping the 21-inch AMG alloys. And it's decently quiet enough, aside from the muffled rumble of the 429 hp 4.7-litre turbo V8 on acceleration. Even the 7-speed automatic gearbox is invisible in its operation, once you set it to "D" using the fiddly gear-stalk on the steering column. In casual driving, it seems to handle safely too.
We did a spot of off-roading with it too, nothing too challenging, but enough to know that it can venture into the desert. With deflated tyres and that big engine, the GL 500 manages very well on soft sand. We drove in sand mode, with ESP off, and there's hill-descent control and low-range gearing available if needed. The low-profile rubbers meant that it feels a bit bogged down at slow speeds, but access to that big motor is just a tap of the throttle away, so it's easy to just put in a bit more juice to keep moving. We did mild uphill slopes and steep downhill dunes, all easily accomplished since we electronically raised the suspension. We didn't slam it into the side of a steep uphill dune or crest any serious peaks at any point, nor would we recommend it with this car.
From our brief drive, the GL 500 appears to be a perfect entry in a segment that's dominated by some serious rivals. It's got enough power, luxury and capability to make the pricier GL 63 AMG a rather frivolous upgrade. But then again, our brief rounds with the ML 500 and the GLK 350 at the same event told us that you can even get almost the same level of ownership satisfaction in a smaller affordable package. The only thing that left us wanting though is, possibly, a design with more character and a heritage of its own. If such naive sentiments don't bother you, it's a perfectly good all-rounder for your family of seven.
Keep track of UAE/KSA/GCC prices and specs in the Mercedes-Benz buyer guide.