2015 Chevrolet Corvette Z06 Convertible revealed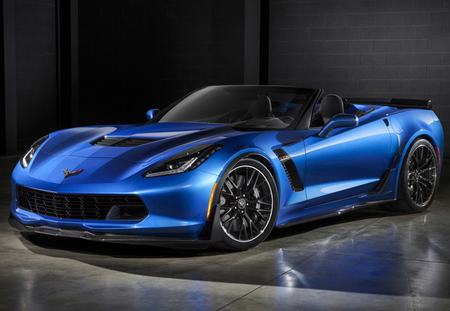 General Motors revealed pictures and details of the new Chevrolet Corvette Z06 Convertible ahead of the 2014 New York Auto Show this week.
Under the hood, the Corvette Z06 Convertible features the same supercharged 6.2-litre V8 as the coupe, mated to a standard 7-speed manual gearbox or an optional 8-speed automatic transmission. The motor produces about 625 hp and 861 Nm of torque.
The smart electronic limited-slip differential, or eLSD, is standard on the Z06. It features a hydraulically actuated clutch capable of infinitely varying clutch engagement. The system enhances all aspects of performance by constantly tailoring the clutch-pack engagement based on a unique algorithm that factors in vehicle speed, steering input and throttle position to improve steering feel, handling balance and traction.
Another impressive feature of the Z06 Convertible is it weighs almost as much as the coupe, thanks to the new aluminium structure of the car, which is 20% stiffer than the previous generation fixed-roof Corvette Z06.
The Chevrolet Corvette Z06 Convertible could make its debut in the UAE, Saudi Arabia, Qatar and other GCC countries by the end of the year.
Keep track of the latest prices and updates in the Chevrolet Corvette buyer guide.