Long-term update: Jaguar XK more practical than it appears

Jaguar is keen to promote the F-Type as their new hero of the line-up, its position further solidified by the news that the long-running Jaguar XK is going to end production by this summer, with no replacement planned anytime soon. However, as big of an improvement as the F-Type is as a sports car, it is missing the main reason that I bought the XK for: cargo space.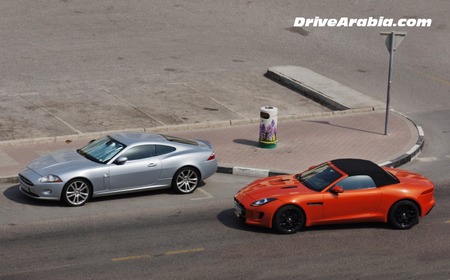 Now, we already own a perfectly practical cargo-hauler in the shape of a Range Rover, and a perfectly good sports car in the form of a Honda S2000. But we wanted something in between — something that we could have some casual driving fun with, and then head to the supermarket for some shopping right after, without having to switch cars first.
The F-Type rides on a shortened XK platform, as the latter is somewhat large to be a proper sports car. It's a grand tourer. That means it has two tiny seats in the back, and an enormous boot floor. With a liftback-style boot opening, we can stuff a week's worth of groceries back there without breaking a sweat. In this respect, it is even better than the Porsche 911, whose front boot simply cooks all your luggage next to the radiator.
We've even stuffed three adults in the car for short trips when the Range Rover was unavailable, so it's all possible. Just make sure your passengers aren't too tall.
We replaced a broken latch for the passenger-seat slider and did an a/c gas recharge at the dealer, and later changed a brake-light bulb at another garage.
In unrelated expenses, we got the one old headlight polished for Dhs 250 and installed 3M headlight-protection film for a further Dhs 250, as seen below.
The car's running fine as we head towards one year of ownership. This design has been around since late 2006, but it still looks thoroughly modern and exotic.
Original Mileage When Bought: 99,150 km
Latest Mileage To Date: 103,450 km
Latest Average Fuel Economy: 13.9 litres/100 km
Cost of Latest Problems: Dhs 950
Cost of Latest Maintenance: Dhs 0

Total Non-Fuel Running Cost Since Bought: Dhs 14554