So we got a 2014 Jaguar XFR-S

Truth be told, we've become a bit bored with super-sedans nowadays. They look like their cheaper brethren, with a few subtle styling tweaks that only nerds notice, while packing a big motor whose power you cannot use anywhere legally. Big deal. We like the way Jaguar did it though — the XFR-S styling tweaks are a little more aggressive than the norm, while the motor makes all sorts of real supercar noises, even when parked. Eat your heart out, BMW.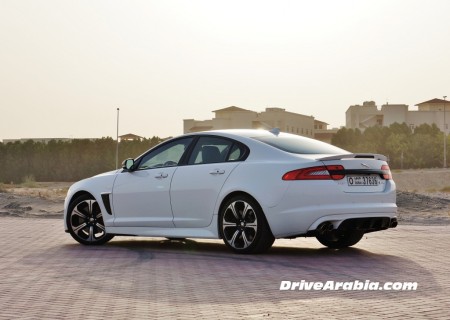 It helped that the XF-RS had the attractive swoopy XF to build off of, rather than a stodgy featureless 5-Series. The "R-S" adds things like that front bumper with gaping intakes, several vents, side skirts, rear diffuser bumper and more. Our tester had a rear lip spoiler though, rather than the big spoiler we've seen in press photos.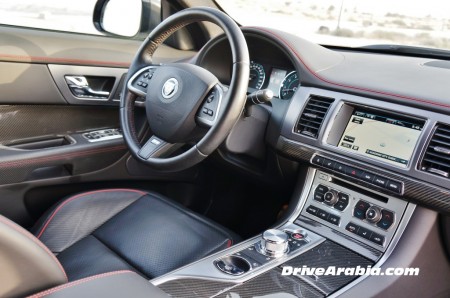 Inside, there's acres of leather, as is customary with most high-end Jaguars. The design's fine, but its age is starting to show thanks to that small touchscreen. Still, there's no real limitation on functionality.
The XFR-S is the answer to the question of what you'll get when you cross an XF with an F-Type R. It drives and sounds a lot like its sports-car sibling. No hundred "drive modes" and no idiotic sound generators. More on that in the full review.