McLaren 675LT Spider officially unveiled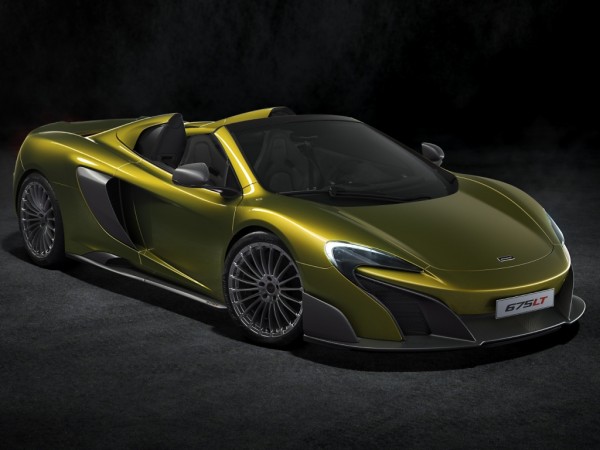 McLaren has officially unveiled the new 675LT Spider; a hard-top convertible version of the 675LT coupe. The 675LT breed of supercars are intended to be track focused versions of the 650S.
The 675LT Spider adorns a sportier exterior courtesy a larger front splitter, new side skirts, and a larger active longtail airbrake. Furthermore, in lieu of weight-reduction, there is a new titanium dual exhaust system and unique 19 and 20-inch ultra-lightweight forged alloy wheels with special P-Zero Trofeo R tyres. The car has also been equipped with sport-tuned suspension which features stiffer springs and a wider track.
The Spider will be powered by the same 3.8-litre V8 found in the 650S, but is now tweaked to produce 666 hp and 700 Nm of torque. Changes to the engine include new turbochargers, revised cylinder heads and crankshaft, lightweight connecting rods, high-flow fuel pump and a reworked exhaust manifold. This in turn translates to a 0-100 kph time of 2.9 seconds and a top speed of 326 kph.
The cabin is intended to keep the weight in check too, as it will be devoid of air-conditioning and will feature lightweight leather-finished carbon-fibre-shelled racing seats. Despite that, customers can have the air-conditioning unit refitted at no extra cost. However, it will add an extra 16 kg to the existing 1270 kg. The hard-top can be operated at speeds up to 30 kph.
The 675LT Spider is expected to make its way into the UAE, Saudi Arabia, Qatar, Kuwait and the rest of the GCC sometime later next year. Production will be limited to 500 units, and it's wise to open your cheque books as soon as possible, because the 675LT Coupe was sold out in less than two months.