Mercedes-Benz A-Class sedan hinted with Concept A design study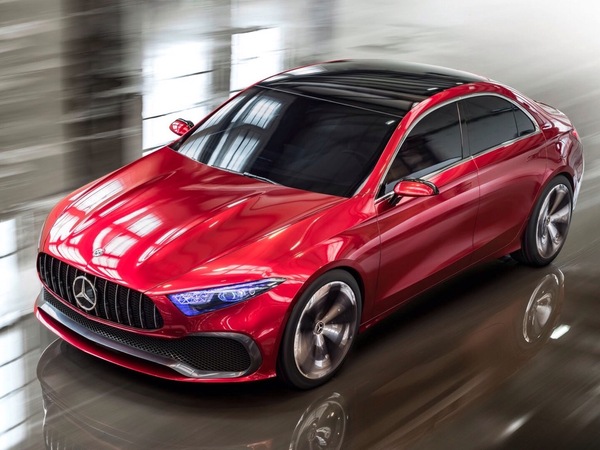 The awkwardly-profiled Mercedes-Benz CLA-Class sedan has been successfully serving as an entry point to the three-pointed star family for a while now. At the 2017 Auto Shanghai, Mercedes-Benz previewed a new idea for a model, the Concept A sedan, which is based on the A-Class and may hint at the future design direction of the A/CLA/GLA trio.
The Concept A sedan, when it debuts as a production model, will apparently take the stage as a proper four-door A-Class sedan instead of the four-door coupe style adopted by the CLA. The design is contemporary and makes use of fewer creases on its body. The overhangs at the front and rear are kept short to liberate more room in the interior. The 20-inch wheels are accommodated by the massive wheel arches, both of which are bound to be sized down for the production variant.
No information about the powertrains are available though. The Concept A sedan is expected to share engines with the CLA-Class and the A-Class. The engine list for these models start with the 2.0-litre 4-cylinder turbo petrol that produces 208 hp. The AMG edition produces a massive 375 horsepower. But with spy shots of a disguised AMG A-class prototype hint at a 400+ hp output, the probability of the new A-Class sedan sporting the same output is high.
The new A-Class sedan based on the Concept A sedan is expected to debut by late 2018.