First drive: 2018 Audi A8 in Spain
Raising the stakes for German-dominated full-size luxury saloon rivals, the fourth generation Audi A8 is a technologically advanced tour de force. The first level-three autonomous driving production car -– of five levels –- the A8 rolls out a raft of high tech driver assistance, safety, infotainment, convenience, self-parking, mild hybrid, driveline and chassis technologies and systems. And as traditional for luxury flagships, much of its technology, and design elements, should eventually trickle down throughout the Audi model range.
Launched in base form with a turbocharged 3-litre V6 engine developing 340 hp over a broad 5000-6400 rpm range and 500 Nm throughout a versatile 1370-4500 rpm mid-range, Audi's flagship range will soon include twin-turbo 460 hp, 660 Nm 4-litre V8 and 585 hp 6-litre W12 variants for sale. With standard Quattro four-wheel-drive and 8-speed automatic gearbox providing sure-footed traction from standstill and slick, quick and flexible driving responsiveness, the entry-level V6 dispatches the 0-100 kph benchmark in a claimed 5.6 seconds, and 5.7 seconds in long-wheelbase form.
Smooth, refined, versatile and eager, the V6-powered A8 55 TFSI is confident in town, motorway and steeply inclined mountain routes, while the V8-powered A8 60 TFSI adds layers of effortless mid-range waft, muscular top-end urge and an acoustically distilled growl. Standard across the A8 range is a 48V mild hybrid system which, oddly enough, doesn't contribute to driving the car. Instead, it drives ancillaries and allows stop/start functionality from 22 kph and high speed coasting between 55-160 kph, with the engine switched off, to reduce consumption by 0.7 litres/100 km.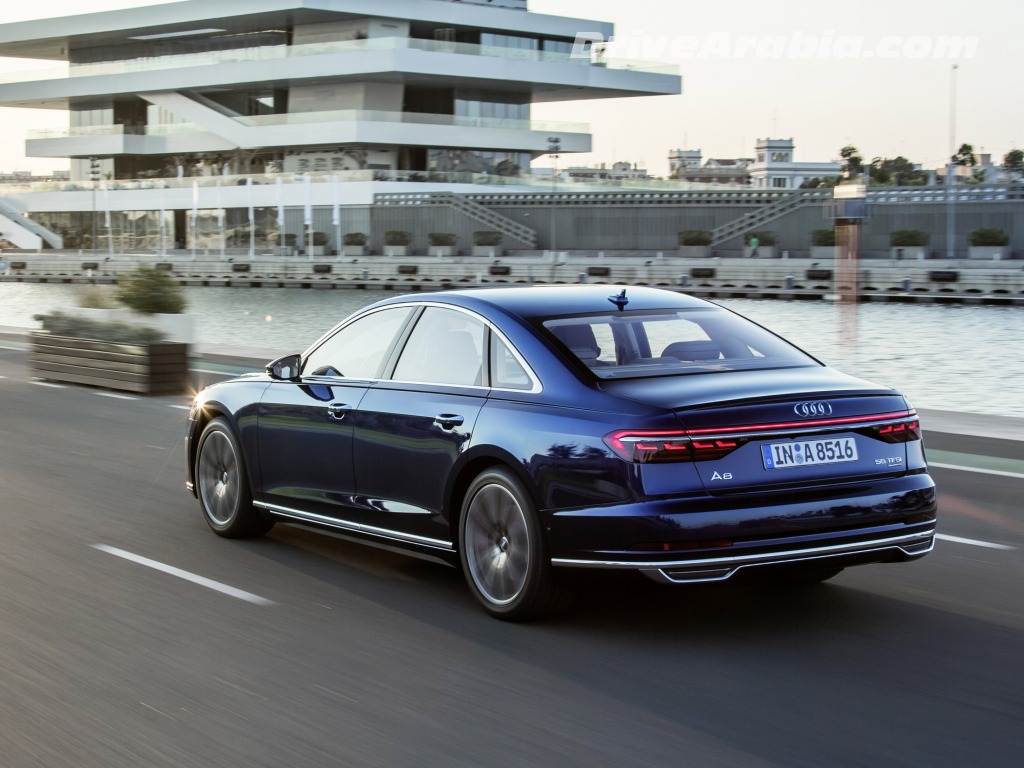 Riding on improved standard adaptive air suspension, and with a 24% stiffer frame, the A8 smoothly glides along. Refined, stable and settled, it absorbs road imperfections with suppleness despite low profile tyres, yet is controlled and tenacious through sweeping corners. Manoeuvrable along narrow mountain switchbacks in standard wheelbase, the A8 L 55 was however slightly less wieldy, with its additional 30mm more evident. Driven with optional four-wheel-steering and adaptive electromechanical suspension, the V8-powered A8 L 60 proved more focused on the same route.
Powered by its 48V electric system driving individual motors to adjust each wheel, the "Audi AI" active suspension adapts to lateral forces and vertical textures to deliver taut, flat and committed body control through successive corners. Meanwhile, with rear wheels turning opposite to front at low speed and in the same direction at higher speeds, turn-in was tidy and crisp, cornering lines tight and agility remarkably unexpected. Simply put, it felt like a smaller, sportier and lighter car.
A techno-laden step-up in the luxury car game, the A8 is also improved inside. Swathed in luxurious materials and high tech interfaces, it notably features better rear headroom despite a rakish C-pillar. A level waistline provides airy ambiance, good visibility and grounded profile emphasising its four-wheel-drive. With massive hexagonal grille, and sharply ridged and meticulous surfacing, the A8 looks as impressive as it drives, but the evolutionary design will likely go unnoticed by casual onlookers, and those slim full-length rear lights and chrome strips make it somewhat colour-sensitive — you have to pick the right colour to make them look good.
Keep track of price updates in the Audi buyer guide.
Photos by Audi.