Comparo: 2018 Toyota Camry Grande vs Honda Accord 2.0T Sport
Midsize sedans are increasingly being sidelined in the face of the crossover revolution. Many manufacturers are starting to give up on the segment, but there are two that have been consistently successful — the Toyota Camry and the Honda Accord. Both have been launched in all-new forms for the 2018 model year, with launch events held at the same location in Dubai, and only a month apart, as if aligned by some cosmic intervention. These two stalwarts have undergone massive changes, with one bringing back the V6 and the other one going full turbo. Seeking to answer the "which is better" question that we constantly receive, we decided to drive them side-by-side and settle it once and for all (or at least until the next model change).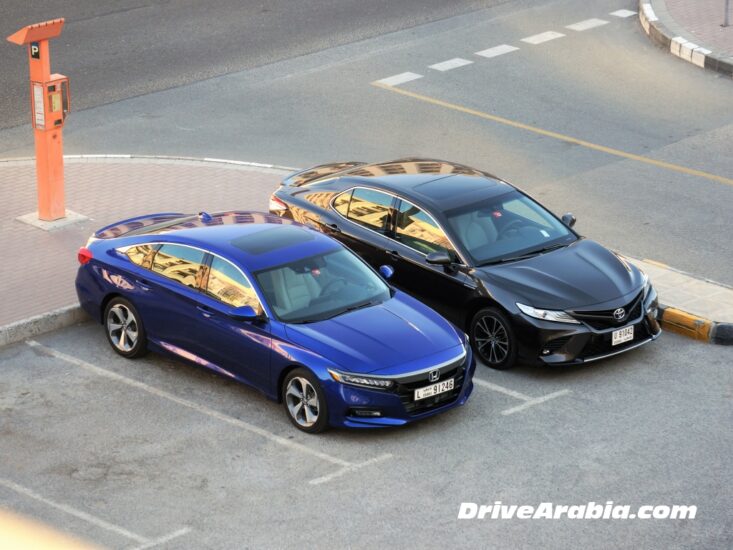 We would've preferred to test the base-engined versions of these cars since that is what most people will buy, but Toyota did not have a 2.5-litre Camry for us to test (which features a carryover 178 hp motor in the UAE, even while there is a new 204 hp 2.5-litre offered in KSA), which would've been easily trounced by the entry-level Accord's 198 hp 1.5-litre 4-cylinder turbo that we drove earlier. So this Japanese face-off features the powerful top versions of both models — the 297 hp Toyota Camry V6 Grande Sport and the 247 hp Honda Accord 2.0T Sport. Wait — is the Accord losing the horsepower race already?
Style & Desirability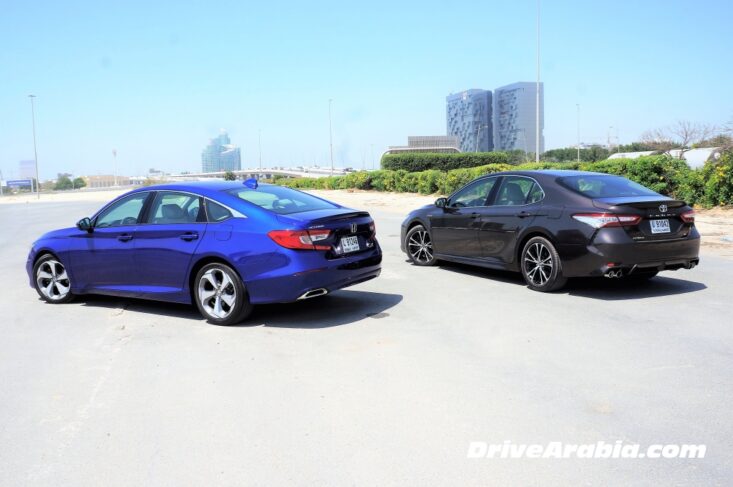 The 2018 Toyota Camry is longer, lower and wider than before, with the side-window line lowered to create the appearance of an even lower car. It looks rather fetching in Sport trim with its uniquely-sculpted front bumper, different 18-inch wheel design, four little exhaust tips and a rear lip spoiler. It is a cohesive design language that's hard to fault, except maybe the fake vents running down the LED tail lamps. Extra points to Toyota for offering a version that looks different from base models.
In contrast, the 2018 Honda Accord is actually shorter in length than before, thanks to its downsized turbo motors allowing for a smaller engine compartment. However, it is also lower and wider, making the new model look longer than the old one. It's also unique with its liftback-style rear-window profile, although it still has a sedan-style boot lid. The front grille juts out and is smoked-chrome in Sport trim, while featuring a rear lip spoiler and wide dual-exhaust tips. The distinctive LED headlights look very expensive, but the LED tail lights look like an afterthought, even if they look good at night. Also, it doesn't look very different from the base model, aside from the larger 18-inch wheels.
While we never put a ranking on style because it is a matter of personal preference, we think the Camry looks better than the Accord (at least until you get tired of seeing the former as taxis everywhere).
Interior size & cargo room
1st: Honda Accord
The Accord wins with maybe an inch more knee room for rear passengers, based on our front-seat settings. The Accord appears to have a shallower boot with a smaller opening, but in terms of volume — at 473 litres — it is way ahead of the Camry, with a tiny bit more length and a lot more width.
2nd: Toyota Camry
That's not to say the Camry is cramped. It is still limo-like for rear passengers, and the boot — 428 litres of it — may actually be more practical than the Accord thanks to its larger opening and taller height.
Interior quality & trim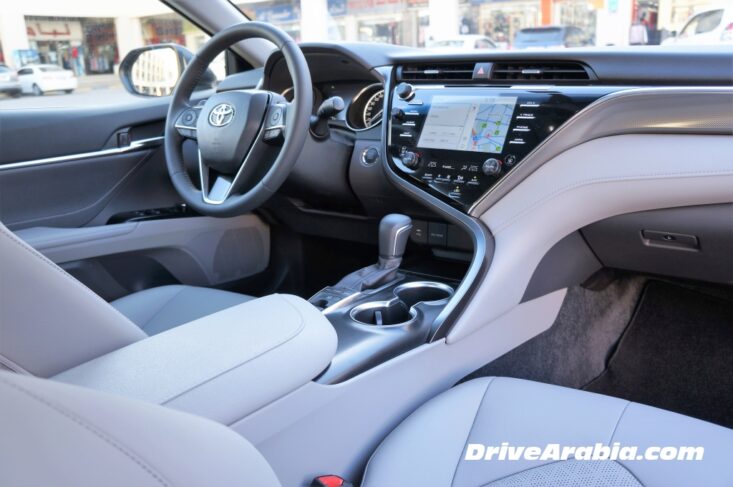 1st: Toyota Camry
The new Camry features well-padded stitched leatherette on huge chunks of the dashboard, aside from soft-touch surfaces on the dash-top, upper door window-sills both front and in the back, and padded door inserts as well as armrests. The chunk of hard plastic around the front cup-holders and shifter is cheap though, and easily scratched. Hard plastics are relegated lower in the cabin.
2nd: Honda Accord
The new Accord's interior will actually be more preferable to many consumers, with its BMW-inspired clean lines and tablet-style screen perched on top. The dash-top and front door window-sills also feature soft-touch surfaces, with well-padded door inserts and armrests. However, the window sills for the rear doors are oddly hard plastic, so it loses points in our book. It makes some of those points back with the leatherette-padded sides of the gear/cup-holders console in the front, but the passenger-facing parts of the lower dash remain hard plastic, as do all other lower panels.
Technology
1st: Honda Accord
The Accord 2.0T by far has the most equipment, starting with the Honda Sensing suite of active driving aids such as adaptive cruise with stop-go feature, lane departure warning, lane-keeping assist, low-speed following, collision mitigation braking and more, aside from range-wide standard features such as ESP, ABS, hill-start assist and more. There's also standard LED lighting, dual-zone auto a/c, smart key, remote start, electric parking brake and cruise control on even base models. Inside the 2.0T Sport, we got an 8-inch touchscreen with a fairly responsive interface, 10-speaker stereo, Apply Carplay and Android Auto, a heads-up display, a gauge cluster with two-thirds of it as a 7-inch LCD screen, a button-operated gear-selector, paddle-shifters, rear camera with multi-angle view, navigation, blind-spot monitoring, LaneWatch right-side blind-spot camera, ventilated front seats and a regular-sized sunroof. The wireless charging and blind-spot monitor options have been skipped for GCC-spec cars.
2nd: Toyota Camry
The Camry Grande justifies it significantly lower price by cutting out all the active driving aids and some of the luxury features that are available in U.S. models. As such, the Camry range only makes-do with standard ABS, ESP, hill-start, cruise control and other such basics. The V6 Sport gets LED lighting, an electric parking brake, an 8-inch touchscreen with slightly delayed responses, 6-speaker stereo, rear camera with an odd fish-eye view, 7-inch LCD screen between the gauges, dual-zone auto a/c, smart key, navigation, paddle-shifters and a regular-sized sunroof. The V6 Limited model adds a wireless charger, chrome exterior trim and illuminated door scuff-plates, but loses the paddle shifters, sport exhaust and the body kit. Aside from all the safety nannies, the 360 camera, heads-up display and panoramic sunroof options have also been skipped for GCC-spec cars.
Engine power & acceleration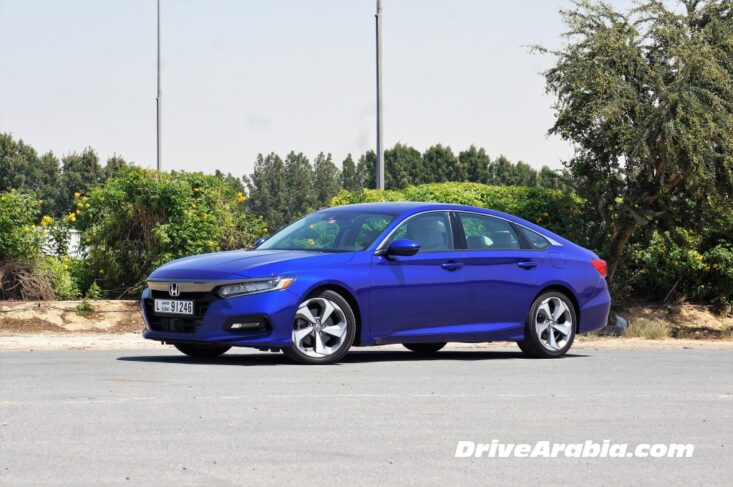 1st: Honda Accord
The Accord 2.0T looks like the loser on paper, down by a massive 51 horses less than the Camry V6, with 247 hp at 6500 rpm. But you see, the 2.0-litre VTEC turbo-4 also makes a massive 370 Nm of torque from just 1500 rpm all the way to 3500 rpm. And then there's the 10-speed automatic to hurry things along further (the 1.5T gets a well-tuned CVT). We fired off a 0-100 kph time of 6.1 seconds in our testing, pounding out a wheelspinning launch even with ESP on.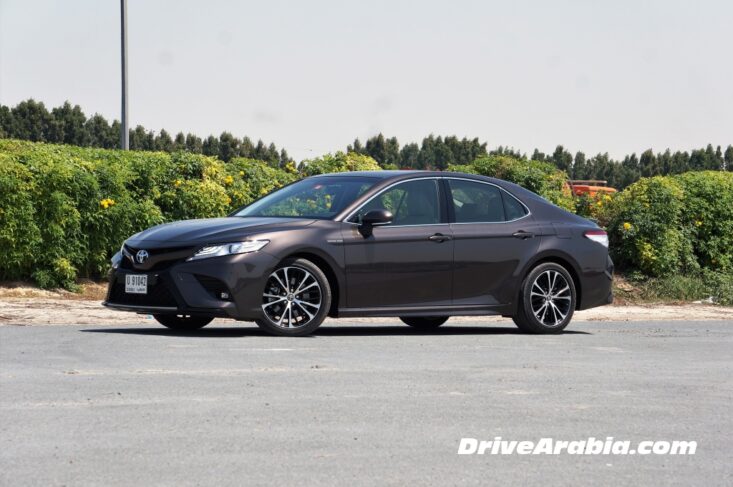 2nd: Toyota Camry
The Camry V6 is no slouch other. The upgraded 3.5-litre V6 makes 298 hp at 6600 rpm. However, it makes 356 Nm of torque, that too at a higher 4700 rpm. Mated to an 8-speed automatic, the car feels pretty quick, but power builds up linearly rather than giving a hard push from the low revs itself, which the turbo Accord does. We timed the Camry V6 at 6.4 seconds in the 0-100 kph run with ESP off, and it's even slower if you leave the ESP on.
Fuel economy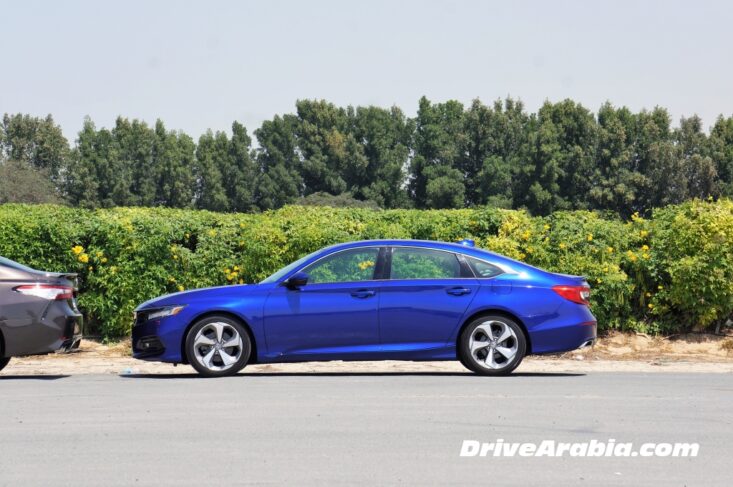 1st: Honda Accord
The Accord 2.0T did 10.6 litres/100 km (9.4 km/l) in our time with the car. The engine downsizing seems to have paid off. Mind you though, the fuel tank is a bit smaller, at 56 litres.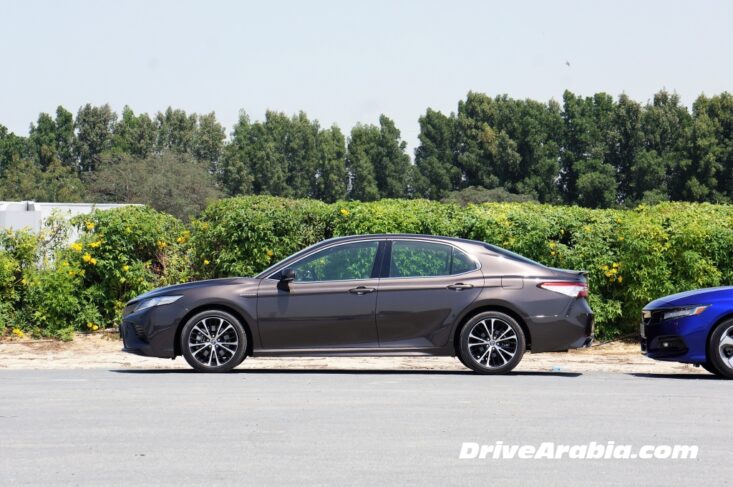 2nd: Toyota Camry
The Camry V6 Grande did 11.7 litres/100 km (8.5 km/l) during our test period. Still impressive for a V6. The fuel tank size is 60 litres.
Ride comfort & noise
1st: Honda Accord
With more sound deadening than ever before, the Accord can finally be classed as a "quiet" car, with some road and wind noise starting to intrude at 120 kph. It rides well too, only a hint firmer than the Camry.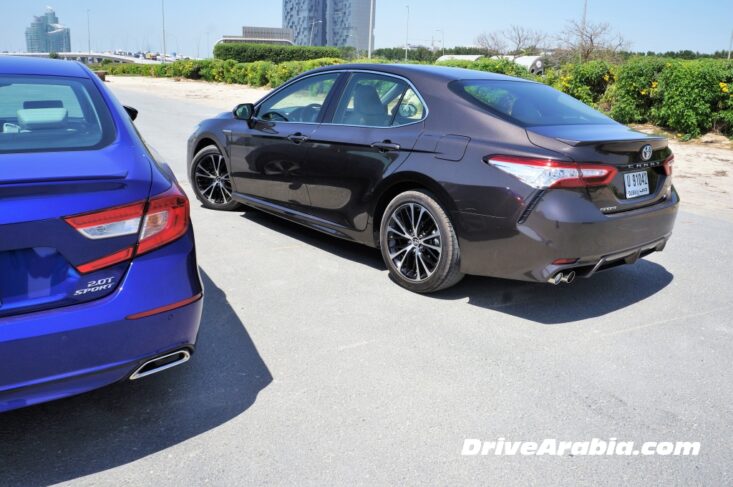 2nd: Toyota Camry
While the Camry rides a tiny bit smoother than the Accord, even with supposedly-sportier suspension in the V6 Sport, there was no hiding an odd wind-noise issue with the Camry that made it sound like a window was open from 100 kph onwards. Below that, it is as quiet as the Accord.
Handling & driving dynamics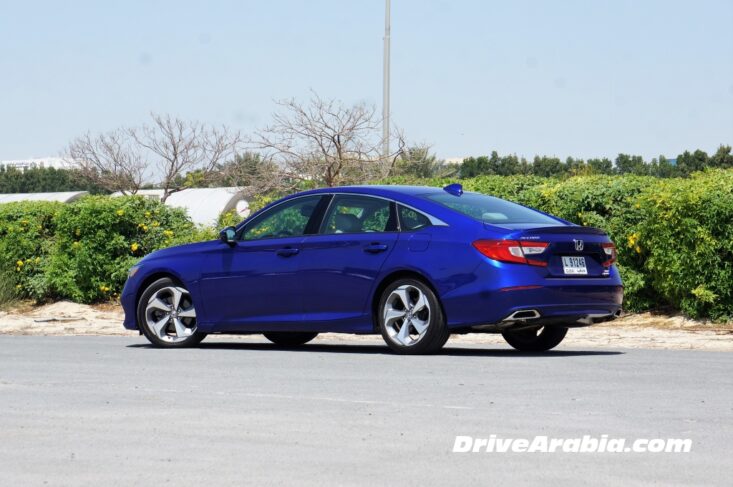 1st: Honda Accord
The Accord drives better, with a bit meatier steering weight, more responsive brakes and slightly firmer suspension than the Camry. The smooth 10-speed gearbox responds well, although there is some waiting time when you force it to downshift 4 gears at once with a hard push of the throttle. It's certainly a much better automatic than Fiat-Chrysler's horrendous 9-speed effort.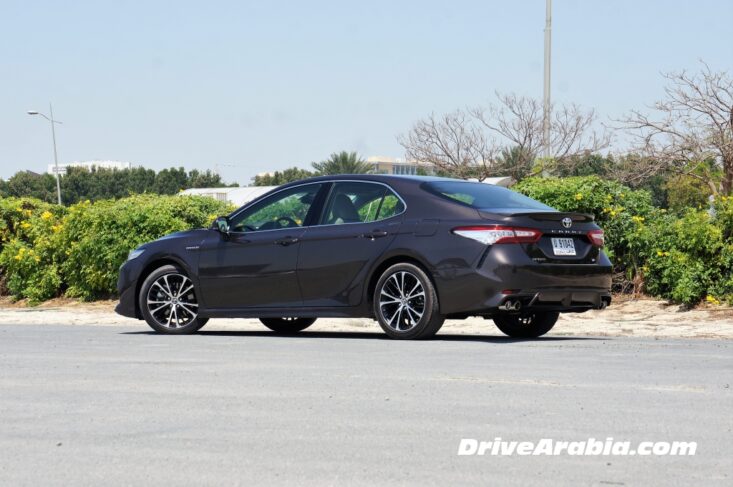 2nd: Toyota Camry
The Camry drives very well too, with enough weight and feel in the steering to keep things interesting. The suspension is well-tuned, even if a bit floaty over big bumps, but the ESP is more restrictive than in the Accord. The 8-speed gearbox is generally smooth and responsive, but not as quick to downshift a gear as the Accord's one.
Verdict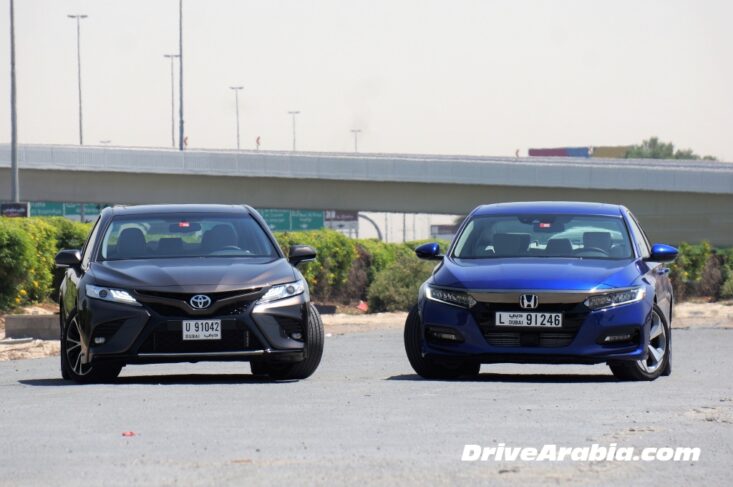 Both of these all-new cars are absolutely perfect buys for anyone from commuters to enthusiasts, and hugely entertaining in their powerful sporty forms. In the UAE, the Camry V6 Grande Sport comes in at Dhs 122,500 (or range from Dhs 114,500 for the V6 SE Plus to Dhs 124,500 for the V6 Limited). The Accord 2.0T comes in only one Sport trim for Dhs 140,000, which is steep, but you also get a ton of extra features for the price. But while we would've preferred a lower-trim 2.0T for a reduced price as a choice as well, it is clear that the Honda Accord 2.0T Sport is the winner if you're looking for an all-rounder car with the works.
Photos by Mashfique Hussain Chowdhury.