2019 Range Rover P400e PHEV plug-in hybrid coming to UAE & GCC
V8 engines are synonymous with Range Rovers, ever since the first-gen model debuted way back in 1970. True, there is now a supercharged V6 and various turbodiesels (in other markets) on offer, but the V8 has always been the core powerplant in the range – especially in the Middle East.
However, no car brand can survive if it doesn't evolve with the times, and so it is with Range Rover, which has just bolstered its flagship SUV line-up with a (gasp!) four-cylinder plug-in hybrid version that lowers emissions and boosts fuel economy. It can also theoretically cover 50 km (at speeds of up to 137 kph) on battery power alone, and in this mode it cruises in almost total silence and spews out zero emissions.
It's fair to say our region hasn't embraced hybrids and EVs (electric vehicles) en masse, but that's gradually changing, with our roads now populated by a growing number of hybrid taxis and battery-powered Teslas.
The Range Rover P400e PHEV (Plug-in Hybrid Electric Vehicle) is also destined for our shores in due course, according to Jaguar Land Rover ME spokesman Salman Sultan: "We are expecting to have the car launch in the region within the coming two years, but we do not have prices for the region ready yet," he says.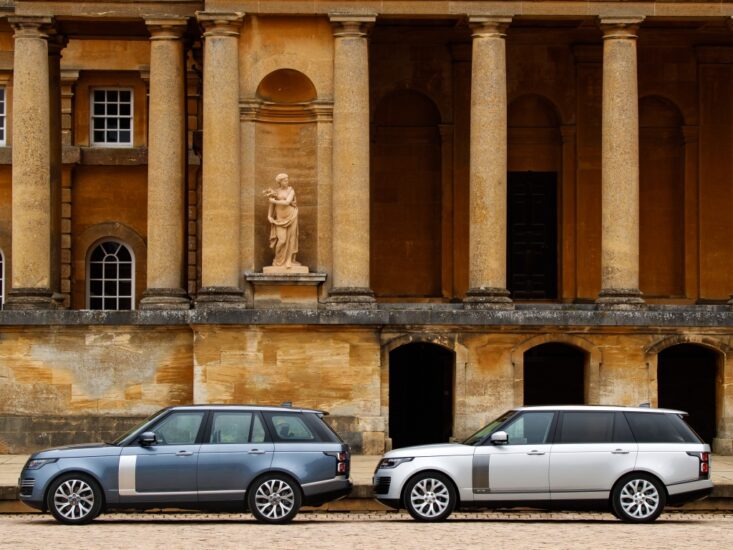 The P400e combines a 300 hp 2.0-litre four-cylinder turbo Ingenium petrol engine with an 85kW electric motor, and this combo ekes out total outputs of 404 hp and 640 Nm – channelled to all four corners via a permanent four-wheel drive system. The company quotes a 0-100 kph split of 6.8 seconds and a top whack of 220 kph, and while these numbers are comfortably eclipsed by the 5.0-litre supercharged range-topper, they're still respectable enough.
The P400e provides two driving modes. In Parallel Hybrid mode (the default driving mode), the petrol engine works in tandem with the electric motor. The driver can optimise battery charge or fuel economy by selecting one of two charge management functions. The 'Save' function prevents the battery charge from dropping below a pre-selected level, while the 'Predictive Energy Optimisation' (PEO) function uses the onboard GPS system to optimise fuel usage.
In 'EV' (Electric Vehicle) mode, the vehicle runs solely on the electric motor using the energy stored in the battery for near-silent, zero-emission journeys.
For the Land Rover engineers, it wasn't just a case of shoehorning in the hybrid powertrain as the Terrain Response 2 system has also been recalibrated to intelligently and precisely distribute torque from the electric motor, which has no creep speed and is able to deliver maximum torque from zero rpm, to all four wheels. Land Rover claims this gives greater control during low-speed off-road manoeuvres.
The P400e is equipped as standard with only a standard household charger, with Level 2 charging cables offered as an optional extra. Integrated into the grille is a port for the 7.0kW charger with LED status indicators. Charging times range from just under three hours with 240-volt Level 2 charging to 14 hours plugged into a standard household outlet.
Other than its silent operation in electric mode, the Range Rover P400e is pretty much identical to the rest of the recently updated Range Rover lineup. A mild update has eliminated most knobs and buttons inside the cabin and replaced them with a pair of 10.0-inch touchscreens. Meanwhile, rear-seat passengers are now treated to a tad more sprawl room and the option of a lot more adjustability, plus individual heating and cooling options.
It remains to be seen how the P400e performs in GCC conditions, both on and off the road, but a Range Rover going electric is surely a sign of things to come.