First drive: 2018 Infiniti QX30 in the UAE
There was a time when "crossover" simply meant a vehicle that straddled two segments, like a lifted station-wagon or some such, for light-duty offroading such as gravel trails and beaches. It soon evolved into a massive segment filled with SUV-looking vehicles that were still light-duty offroaders at best. But Infiniti brings back the old formula with the Q30-based QX30. Ever seen those hatchbacks in dirt rallies? How cool would those be as a daily driver?
The QX30 is not the first of its kind though, with several rivals from various European premium brands. This British-built Infiniti shares its platform, engine, mechanicals and even some interior bits with the Mercedes-Benz GLA 250. Externally though, it is completely different from the German, and infinitely better looking.
The QX30 isn't looking to be offroaded either, with only a 40mm increase in ground clearance over the standard Q30. In terms of looks, the QX30 gets slightly wider wheel overarches, roof rails and bumpers with faux-metal skid plates.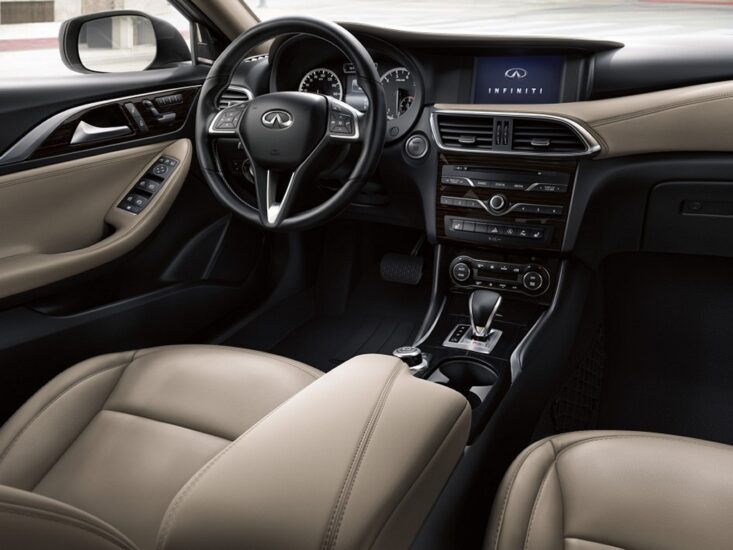 Inside, it is exactly the same as the Q30, with its swoopy dashboard leatherette-stitched sections, well-padded upper dash/door/armrest trim, hard plastic lower panels, and button placements as well as gauge cluster similar to a Mercedes-Benz.
What's not from Mercedes is the multimedia tech, as the Infiniti gets a 7-inch touchscreen integrated into the dash, and playing typical Infiniti software. The screen is on the small side and the interface is slow at times, but there is a rotary controller with buttons around it placed just aft of the gear-shifter for easier control. The screen includes navigation and a four-camera around-view system for easy parking.
The cabin is spacious up front, with seat-adjustment controls mounted on the doors. The front seats themselves are moderately bolstered and a bit narrow for wide-bodied individuals. There is just enough room in the back to fit average-sized adults, although toe-room is a bit tight. The boot is of a good size for a hatchback.
The 2.0-litre 4-cylinder uses a low-pressure turbo to make 208 hp and 350 Nm of torque, enough power for any daily-driving situation such as highway merging and overtaking, but a rocket by no means. The 7-speed dual-clutch automatic works well, with all the advantages and none of the downsides of other dual-clutch cars we've driven. Fuel consumption was hovering just above 10 litres/100 km in our test car, which also has auto start-stop tech.
For a small car, the QX30 rides well, smooth on most highway surfaces with no floatiness. There is moderate wind noise at 120 kph.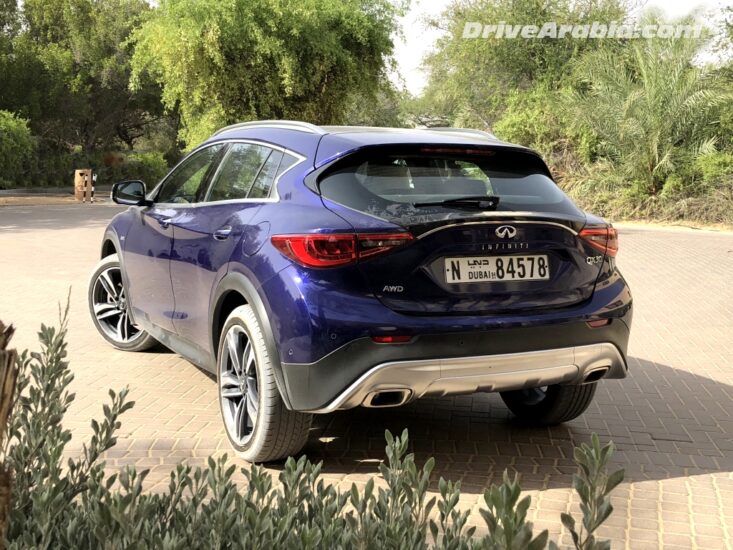 We didn't drive too quickly since we were in a controlled convoy, but on the few corners we took, body control was good, and there wasn't much body roll.
The steering has a fair bit of weight, offering up some feedback as well. The brakes are good with linear pedal feel.
We even got the chance to drive it on a man-made gravel trail, where the suspension smoothened out ripples nicely when driven above 50 kph. There are no offroad modes and such, but the car runs in front-wheel-drive mode most of the time while being able to send up to 50% of the power to the rear wheels when needed for traction.
The Infiniti QX30 is a premium city runabout that's more practical than a regular car thanks to its ability to slip into any cramped parking space or hop onto sandy parking lots with less risk of damage as well as the occasional flat-beach or trail run. It's a bit on the expensive side, with a base price roughly the same as the Q50 sedan, but Infiniti has still undercut the German competition on the price front, including its fraternal twin with the three-pointed star.
For prices and specs, visit the Infiniti buyer guide.
Photos by Mashfique Hussain Chowdhury & Infiniti.