Mercedes-AMG A45 S and CLA45 S models add more power
The world is yet to see people bonkers enough to buy a 380+ hp hatchback and then long for more power. But Mercedes-AMG's latest creations, the 2020 Mercedes-AMG A45 S and CLA 45 S, exist now, apparently boasting the most powerful four-cylinder production engine ever. 
Jumping straight to business, 2020 Mercedes-AMG A45 S and its 4-door sedan-coupe sibling, the CLA 45 S, are powered by the same turbocharged 2.0-litre petrol engine that does duty in the "normal" A 45 and CLA 45. But in the hotter S guises, this engine churns out an impressive 416 hp with 500 Nm to boot it. The less powerful A 45 and CLA 45 are no less impressive. They produce 382 hp and 480 Nm to power the small cars which do the 0 to 100 kph run in 4 seconds and 4.1 seconds respectively. The more powerful A 45 S and CLA 45 S does the same job in 3.9 seconds and 4.0 seconds respectively. Regardless of the variant, all these cars will get an eight-speed dual-clutch automatic gearbox and the 4Matic+ all-wheel-drive system.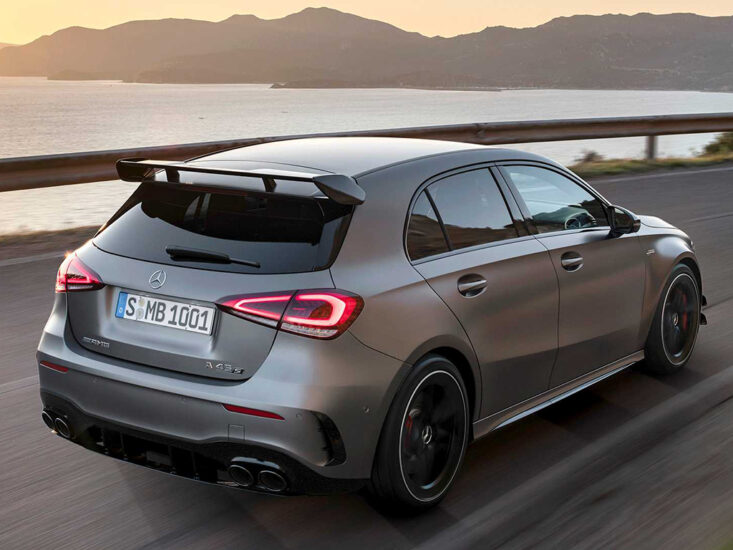 To add more fun to the mix, the A 45 S and CLA 45 S comes with a Drift mode inspired by the Ford Focus RS. This makes these all-wheel-drive cars (based on front-wheel-drive platforms) more tail-happy and fun to drive. The Drift mode is offered as an option with the non-S variants.
The front of the A 45 S and CLA 45 S gets a menacing look thanks to the large grill with prominent vertical slats. The S models also get 19-inch wheels in place of the 18-inchers worn by the regular 45s.
Expect the models to be available in the UAE and GCC by the end of the year.