First drive: 2020 Ford Explorer Hybrid in the UAE
It's not often that the launch of a new car is held in the basement. But there we were, in the underground parking lot of the Ford Middle East HQ, getting an exclusive walk-around of the all-new 2020 Explorer. Only two US-spec pre-production cars are in the country at the moment, in Hybrid trim, and we were among the first journos to get a look at them.
Even though it looks like a facelift of the old model, this is actually an all-new model (which is a bit of a missed design opportunity). The under-the-skin change is so drastic, the 2020 Explorer actually switches to a rear-wheel-drive platform again, after 9 years as a front-driver. If you stare at it long enough, you'll notice the unmistakeable stance of a rear-driver.
Inside, the all-new interior has the mandatory levels of soft-touch materials on the upper window sills, door inserts and dashboard. There is a sliver of faux wood trim on the dash, but it does not continue anywhere else on the cabin, although this may change on the final product.
An 8-inch touchscreen sits on the dash, looking a bit small but otherwise functional, with fluid graphics, decent response and full Arabic support. A massive iPad-like 10.1-inch touchscreen will show up on top-spec models later on. There is also a big screen with full animated graphics between the physical gauges. A full LCD-only gauge cluster will also be available.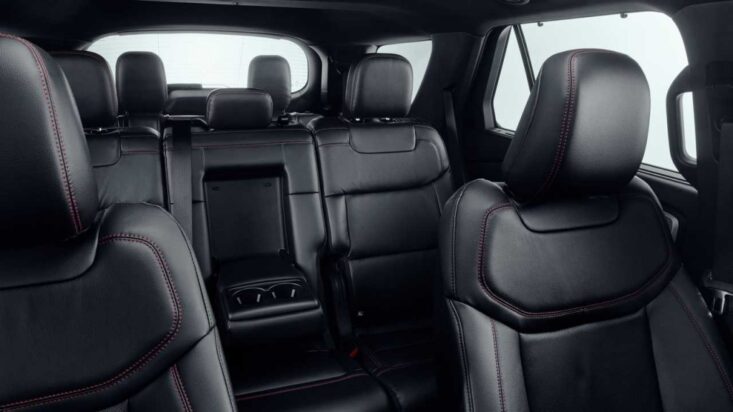 Space seems to be decent, at least in the first two rows, while access to the third row does not require taking out baby seats in the fold-forward second-row seats. Boot space is great, with the hybrid system's batteries not taking up any obvious boot space since they are under the car.
We drove the car out of the basement and headed out of the city. This being a Hybrid model — with a 3.3-litre V6 paired to an electric motor, a liquid-cooled lithium-ion battery, and a 10-speed automatic transmission making 318 hp and 456 Nm of torque (in US-spec trim) — the extra kick from the electric system is very obvious at low speeds. You have to manage your throttle inputs to expect that. Flooring it all the way to highway speeds, it accelerates more like a petrol car, with a not-particularly-pleasing note from the raspy-sounding V6. We'd estimate a 0-100 kph time of around 7 seconds. There will also be 2.3-litre 4-cylinder turbo and 3.0-litre V6 turbo petrol-only options.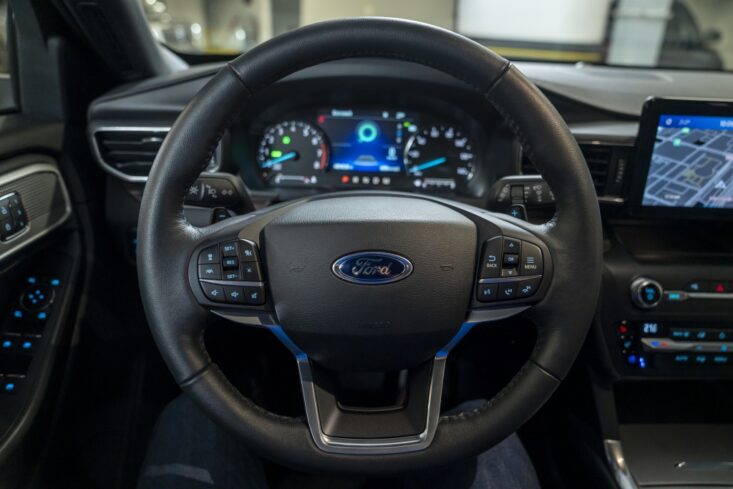 The Explorer comes with a full suite of safety features, known as Ford Co-Pilot 360, as standard equipment. This includes forward-collision warning, automatic emergency braking with pedestrian detection, blind-spot warning, cross-traffic alert and lane-keeping assist. A full set of front-side-curtain airbags is also standard.
Our car also had adaptive cruise control that could brake and crawl in traffic on its own, with the additional option to stay centred in the middle of the lane as it cruises. It requires a hand to always be on the wheel, and cannot change lanes on its own or figure out what to do when the lane markings disappear, so it's best used on the cleanest highways with no construction work going on.
The ride is largely smooth, but a bit on the firm side. Road and wind noise are within segment expectations, which is to say pretty decent based on our quick drive.
We also managed to push it on a few long corners, and the handling improvement is terribly obvious. The rear-wheel-drive platform, combined with the wide 255-width tyres on 20-inch alloys (19's and 21's are also available), give the big Explorer more car-like reflexes now, with good body control and limited body roll. It's finally somewhat fun to drive, with nicely-weighted steering and responsive pedals.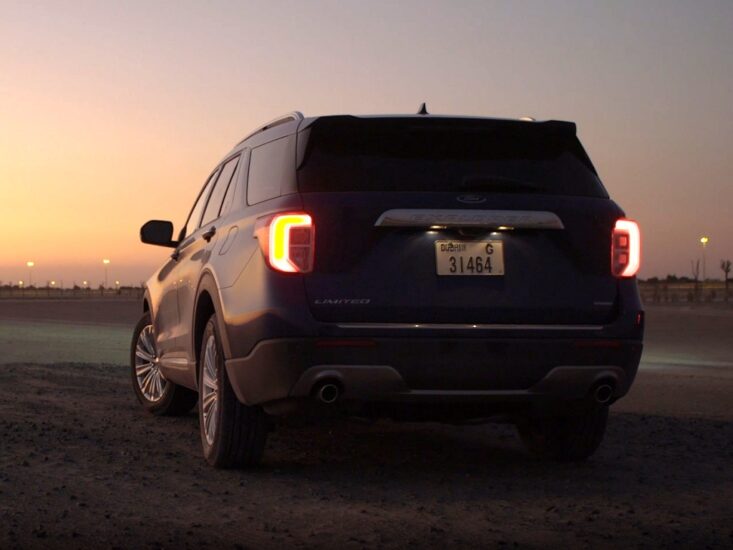 Being the rear-wheel-drive version, our test car wasn't going to manage any sand driving, but all-wheel-drive will be available as an option, with a terrain-management system.
The Explorer looks all set to continue its not-insubstantial popularity in the GCC. It will be a tough fight against the value-packed Koreans, the other aging Americans and certain soon-to-be-updated Japanese rivals, but the Ford is among the more fun-to-drive ones – a factor which hopefully won't be lost on family-bus customers.
Photos by Ford Middle East.