2020 Audi RS Q8 is a cut-rate Lambo Urus
The Lamborghini Urus is a crazy-fast machine, but it commands a crazy price too. For the ones dazzled by its charm but has not enough dime to shell for it, Lambo's parent company has come up with another choice. Audi has launched the quickest RS version of their flagship Q8 SUV, dubbed the 2020 Audi RS Q8. It is almost as quick as the Urus but induces a less fatal heart attack with its smaller price tag.
If you didn't know, the Audi Q8 shares its basic platform with such stalwarts as the Lamborghini Urus, Bentley Bentayga and…the VW Touareg.
How quick is the RS Q8? Well, this new SUV blitzed the Nurburgring with a 7:42.253 time earlier in November, dethroning the Mercedes Benz GLC 63 S as the fastest SUV around the track. The performance comes courtesy of a 4.0-litre twin-turbo V8 engine that churns out 592 hp and 800 Nm of torque. The firepower from this engine enables the colossus to hit 100 kph from standstill in 3.8 seconds, just 0.2 seconds slower than its expensive cousin, the Urus. Both the RS Q8 and Urus top out at the same speed of 305 kph.
With great power comes great responsibility, some wise character in a comic said. So, the RS Q8 comes with adequate gear to rein in its horses. There are optional ceramic brakes with 440 mm discs up front and 370 mm discs at the back to bring the large SUV to a halt. It is also equipped with all-wheel steering for better handling.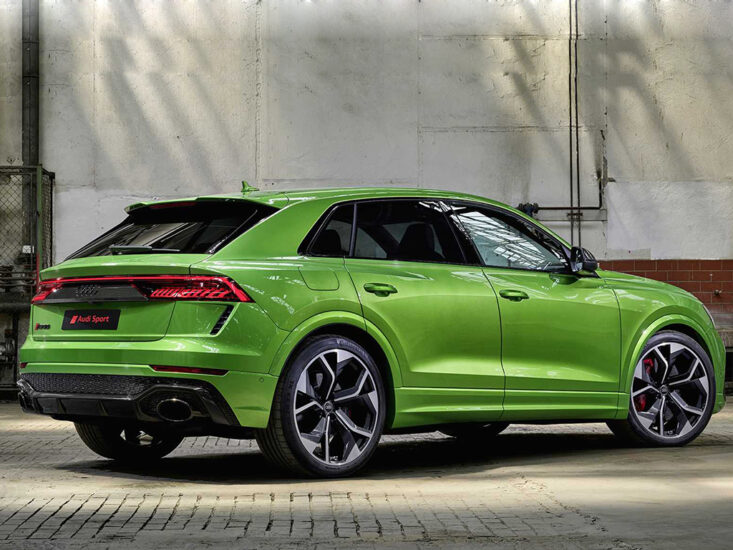 The Audi RS Q8 retains the coupe-ish lines of the donor car but adds more zing by adding giant air intakes and unique exhaust tips. A 22-inch set of wheels comes as standard fitment, shod with massive 295/40 tyres. If that doesn't float your boat, you can upgrade to the 23-inch set as well. High-gloss black elements on the body make the RS Q8 stand apart from the regular Q8.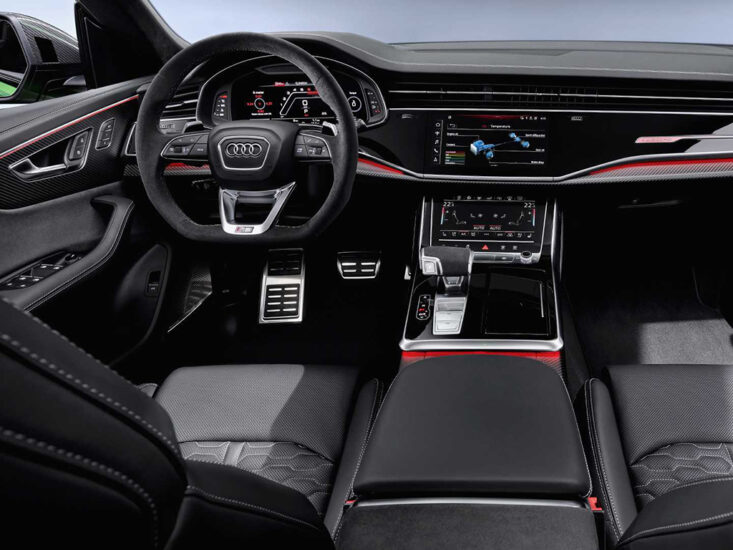 The sporty seats inside are covered in black leather and Alcantara. An optional upholstery of Valcona leather is also offered. RS logos are seen embossed into the seat upholstery. The instrument cluster and heads-up display get RS-specific graphics to remind the driver that he isn't just driving a body-kitted base Q8.
The Audi RS Q8 goes on sale in Germany from the first quarter of 2020 and will probably cost around Dhs 550,000 when it lands in the UAE and GCC, which is well below the price of Dhs 900,000 that the Urus commands here. What a bargain!