2023 Suzuki Jimny 5-door gets more practical
Since its launch, the little Suzuki Jimny has been raking up the praises for its nimble-footed off-road manners. But for some markets, the lack of practicality a 3-door vehicle brings may be a turn-off. The 2023 Suzuki Jimny 5-Door is here to solve it all, making its debut in India.
Suzuki Jimny 5-door dimensions
The changes the new Jimny brings are obvious. You have five doors to start with. The ladder-frame chassis is extended to produce a longer wheelbase of 2,590 mm. While the 3-door Suzuki Jimny measure 3,395 mm long to comply with the Kei car regulations in Japan, the bigger offering grows it to 3,645 mm. This is well under the 4-metre mark that Indian regulations use to jump to different (and higher) tax brackets. The width and height figures are identical to the international model.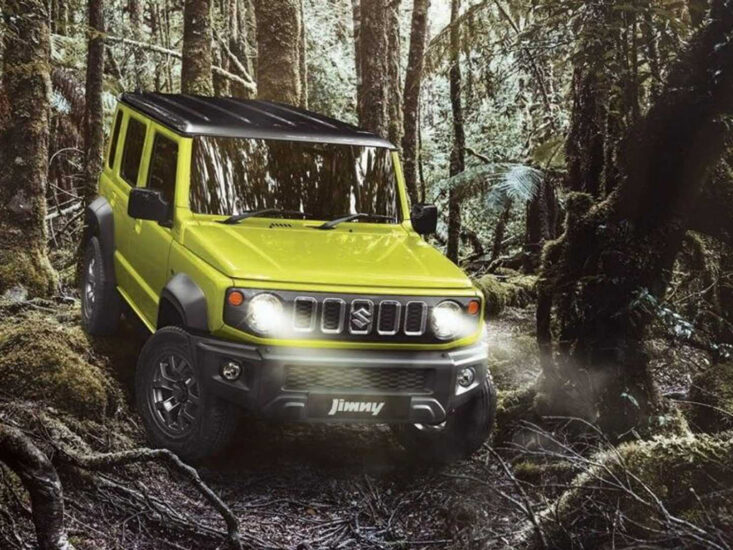 Suzuki Jimny 5-door off-road ability
Being a Jimny, the 5-door model is expected to perform well off-road. A 210 mm ground clearance, 36-degree approach angle, 24-degree breakover angle, and a 50-degree departure angle help it tackle the tricky bits that come with no tarmac.
The design brings no surprises. It is still boxy and still gets finished in a Kinetic Yellow colour. The roof is finished in black and gives a nice contrast to the aesthetic. The wheel arches sport 15-inch wheels with 195/80 tyres. The spare wheel is mounted on the side-hinged rear door.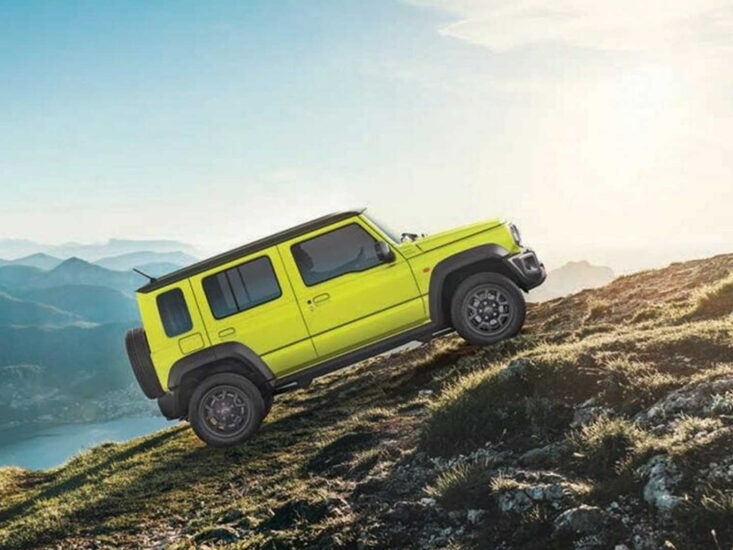 Interior design
Indian-spec Jimny carries over the same interior from the international 3-door model. The butch elements, like the grab handle on the dashboard and faux-exposed bolts, are all retained. The big change, of course, is the larger rear bench that can seat 3 passengers. However, the cargo capacity is not impressive, with only 208 litres with all seats up.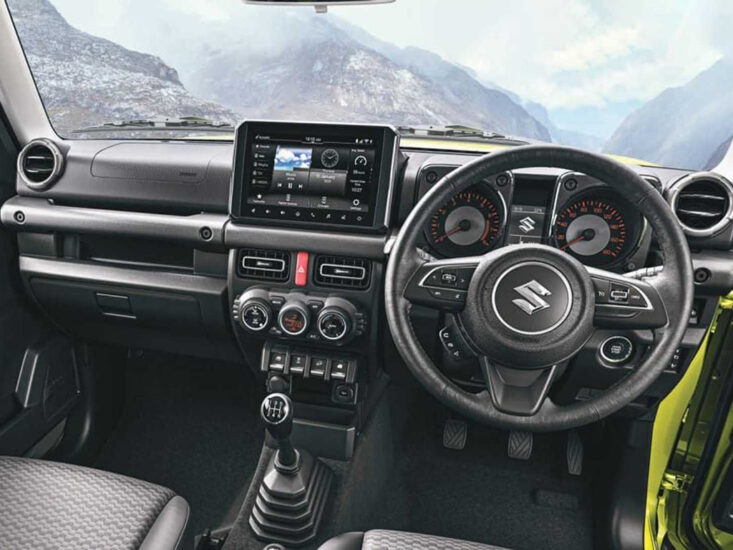 A nine-inch infotainment system with Android Auto and Apple CarPlay, Arkamys sound system, and a few other tech bits show up in the 2023 Suzuki Jimny 5-door.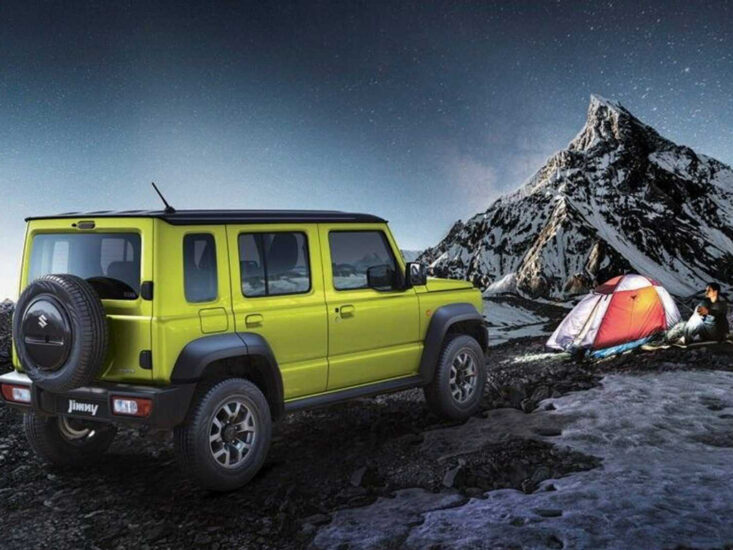 Suzuki Jimny engine specifications
The power comes from a 1.5-litre petrol engine that offers mild-hybrid technology. This produces 105 hp and 134 Nm of torque, channelled to all four wheels. The four-wheel-drive system gets 4WD-low mode as well if you fancy a bit of rough off-roading. Transmission options include a 5-speed manual and a four-speed automatic.
The 2023 Suzuki Jimny 5-door will go on sale in India from May 2023. Eventually, it will make its way into some international markets.