2008 Mitsubishi Lancer spotted in Dubai
One of our readers, Muhammad Talha, who previously sent us photos of the next Nissan Altima in the UAE, apparently found the stash of 2008 Mitsubishi Lancers that we were earlier secretly told existed somewhere in Dubai.
There are 10 of these cars, seemingly Lancer GTS models with Rockford Fosgate stereos, sitting at the used car market in Dubai, with destination listed as Al Habtoor Motors. We already know that the local dealers are simply sitting on these cars, waiting for HQ in Japan to give the go-ahead for launch. It's already being delayed for quite a while now.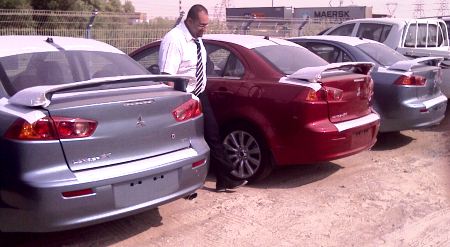 Mitsubishi shouldn't delay any longer. I haven't been this interested in a small car since the launch of the new Honda Civic.
For more photos of the actual 2008 Mitsubishi Lancer, check our our previous report.