Nissan Skyline GT-R to debut in Tokyo
Nissan is going to unveil its best ever sports car at the end of next month during the 2007 Tokyo Auto Show. Dropping the "Skyline" name, it will be called the Nissan GT-R, and will be equipped with a twin-turbocharged 3.8-litre V6 powerplant, pumping out an estimated 480 hp to 530 hp. Shown above is the disguised working prototype. The surprising part is it has unofficially been proven to be quicker around a track than a Porsche 911 Turbo, which costs twice as much as the GT-R.
The Nürburgring racetrack in Germany is used as testing grounds by many car manufacturers. The all-wheel-drive Porsche 911 Turbo (priced at about US$ 150,000 in the States) officially laps the track in 7 minutes 40 seconds. The all-wheel-drive GT-R, during testing, has been unofficially timed at 7 minutes 38 seconds. Apparently Nissan now wants to chase the Porsche Carrera GT's time of 7 minutes 28 seconds.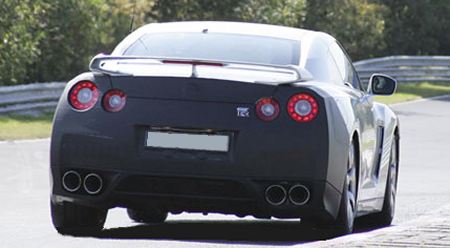 The GT-R will be priced at US$ 68,000 in Japan. The car is expensive, but it'd still be amazing value for an amazing piece of machinery. Sadly, we don't expect it to come here anytime soon.